Are you ready to take your mountain biking to the next level, literally?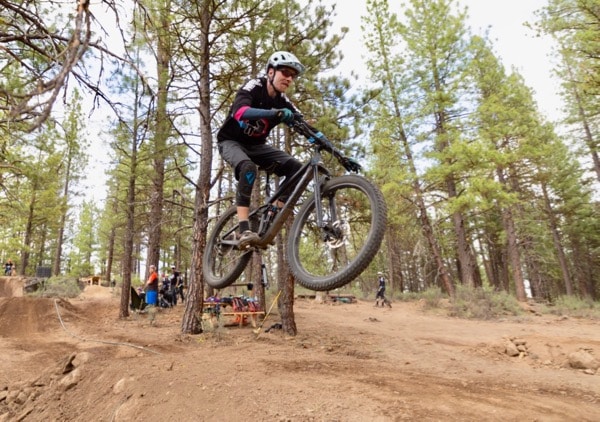 Jumping your mountain bike is NOT as simple as Ready. Set. JUMP!
Learning how to safely and successfully jump (and land) your mountain bike involves a range of key components and constantly changing variables.  Join us as we take you through a series of progressions that will help you understand all the components that come together to create a successful jump.  We'll start with basic wheel lifts, manuals and bunny hops and work our way up to weighting and un-weighting over a jump.  From there, we'll review the anatomy of a jump, discuss varied landings and practice using compression for height and distance.   Then we will be ready to get jumping!
All training is done in a controlled environment, either on an appropriate feature (table top) on the local trails or using manufactured jump ramps.

By the end of this clinic, our goal is to have you successfully clearing a 4-5 foot jump (approximately 2 feet in the air) and landing safely and predictably.  Participants are encouraged to learn at their own pace in this un-intimidating environment.  You will leave this clinic well on your way to jumping mastery – with a more thorough understanding of the mechanics of jumping your bike and a clear idea of what and how to practice!
Come jump with us – sign up today!
**Please note, we require 2 years riding experience or previous attendance at a Ninja Fundamentals Clinic, Intermediate/Advanced Clinic, Camp or Adventure to attend a Jumping Mini-Clinic.
Prerequisites
You must have two years minimum riding experience or have attended any Ninja fundamentals, intermediate/advanced skills clinic or a mountain bike skills camp in the last year in order to attend this mini-clinic.
Here's What We'll Cover
Some of the skills taught and practiced in the Jumping Mini-Clinic may include:
Wheel lifts
Manuals
Bunny hops
Jumping body positioning
Anatomy of a jump
Speed vs. compression | How and when?
Landing with precision
Let's get jumping! | Jump progressions
The Schedule*
Please note, clinics may vary according to location and terrain.
1:30-1:45  Meet your instructor | Arrival at course venue + equipment check
1:45-2:00 Let's get started | Introductions
2:00 – 2:30  Intro to jumping | Wheel lifts, manual, bunny hop
2:30 – 3:00 Reading the jump | Anatomy of a jump, speed vs compression, landings
3:00 – 3:45 Let's jump! | Jumping progressions on table tops
3:45-4:00 Review and next steps | #ridelikeaninja
*Clinic schedule and skills covered may vary according to location and terrain.
Upcoming Jumping Mini-Clinics