Job Openings:
---
SOCIAL MEDIA & MARKETING SPECIALIST
PART TIME | CONTRACT | REMOTE
ABOUT THE ROLE
The Social Media & Marketing Specialist is responsible for the development and oversight of all social media and newsletter activities for Ninja Mountain Bike Performance. This includes original content creation, campaign implementation, and performance tracking and analysis. The Social Media Specialist is responsible for ensuring that all materials produced are in line with our brand identity. Ultimately, this role helps Ninja to build and maintain a strong and consistent brand through a wide range of online and offline marketing channels.
This is a contract, part time, remote work-from-anywhere role. The Ninja Social Media & Marketing Specialist is someone who can work independently, is self-driven, creative and analytical. The position is part-time with opportunities for advancement.
RESPONSIBILITIES
Create and share original content for all social channels and weekly Ninja newsletter; this includes photo editing, copy/caption writing and basic graphic design. Content should promote all ninja products including skills clinics and merchandise.
Create, implement and analyze the following marketing material:

Website banners
Case studies
Skills Tips
Sales campaigns
Partner Newsletters
In-Person Events

Utilizing the aforementioned avenues, develop strategies and tactics to get the word out about Ninja and drive qualified traffic to our website that converts to sales. This requires a thorough understanding of the Ninja customer base.
Measure and report on the performance of social media tools and marketing campaigns – gain insight, assess against goals and adjust accordingly.
Other duties as assigned.
QUALIFICATIONS
2+ years relevant experience working in the bike or outdoor industry. A love for all-things-mountain-biking and ability to "talk-the-talk" with all levels of riders; ranging from first time riders to experience shredders.
Excited about mountain biking skills instruction; certified mtb instructor preferred, but not required.
2+ years professional social media management experience and knowledge of the in-n-outs of all things social media including instagram, facebook, youtube, pinterest, twitter and tiktok.
Hands on business experience with GoogleDrive, Canva, Hootsuite, SendinBlue, WordPress, or other comparable tools.
Eye for quality photos and graphics, basic photo editing skills, and some experience with Canva or a similar graphic design tool.
Organized, creative and analytically minded.
Detail oriented to the max!
Strong written and oral communication.
Welcoming, positive and upbeat demeanor.
Ability to travel, up to 15%.
TO APPLY
Please send resume and cover letter here. Be sure to tell us about your professional social media management experience, mountain biking history, exposure to skills instruction and anything unique we should know about you.
---
INSTRUCTORS WANTED
NATIONWIDE | COMPETITIVE PAY | GROWTH OPPORTUNITIES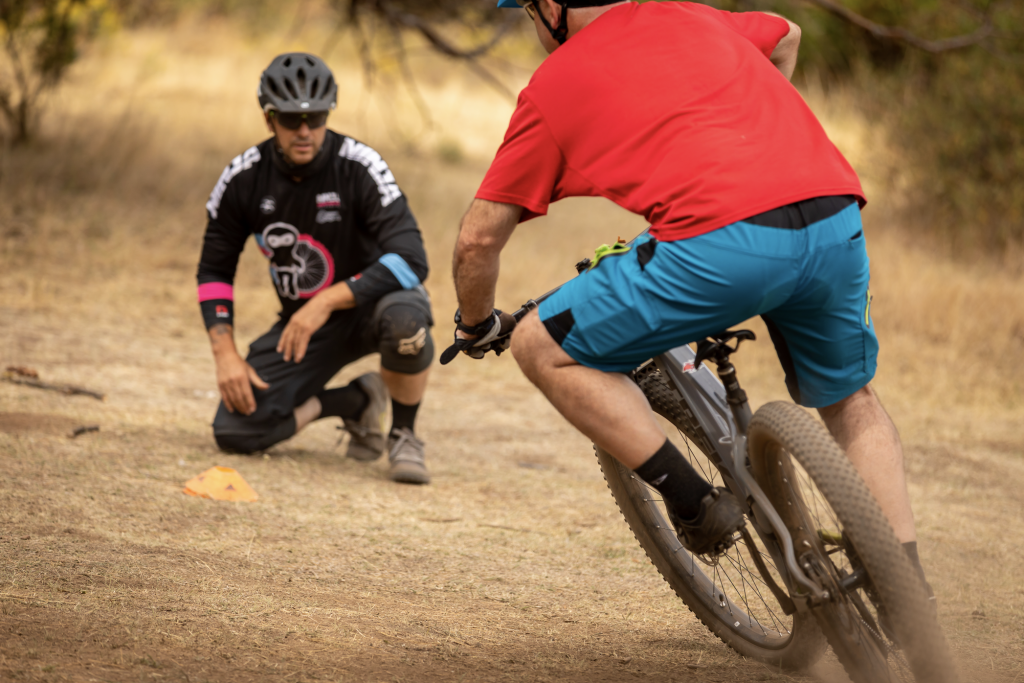 We are looking for high energy, easy-going, smile-inducing, ride-inspiring LEADERS. Our instructors are EXPERIENCED riders, ENGAGING teachers and EXEMPLARY Ninjas in their riding community.
Ninja Mountain Bike Performance is growing! As we expand our programs across the US, we are actively seeking qualified mountain bike instructors to join our team. If you'd like to teach in your home state, surrounding area, or travel to various locations in the US, we want to talk to you!
REQUIREMENTS
Instructor Certification Requirements
All Ninja instructors must have a minimum of one of the following coaching certifications.
BICP Certification
PMBI – Professional Mountain Bike Instructors Association Certifications
Applicants with a NICA Coach License may be considered if they can demonstrate relevant coaching experience.
First Aid Requirements
Valid First Aid Certificate (Wilderness First Aid preferred)
WHY WORK WITH NINJA?
We are committed to the success of both our students and our instructors. We believe that happy instructors deliver more enjoyable courses, giving participants the best possible experience. We offer highly competitive wages along with opportunities for skills development and professional advancement.
APPLY TODAY!
If you are ready to apply to teach with Ninja, please email us here and include the following information:
Name
Location
Certifications (coaching, first aid and other)
Brief summary of your instruction / coaching experience
Your top Ninja maneuver on the bike (feel free to get creative here)
---
CUSTOMER SERVICE NINJA
The Customer Service Ninja is responsible for providing world-class support; including handling live chat, email and phone communication. The Customer Service Ninja will support customer with a range of needs including answering product related questions, transfers, sales, waitlist, refunds, and addressing any customer concerns. This position requires strong written and oral communication skills, patience and an unwavering positive attitude.
Customer Service Representative Responsibilities:
Maintaining a positive, empathetic, and professional attitude toward customers at all times.
Responding promptly to customer inquiries.
Communicating with customers through various channels including live chat, email and phone.
Acknowledging and resolving customer complaints.
Knowing our products inside and out so that you can promptly and accurately answer questions.
Processing orders, refunds, and transfers.
Keeping records of customer interactions, transactions, comments and concerns.
Communicating and coordinating with colleagues as necessary.
Providing feedback on the efficiency of the customer service process.
Ensure customer satisfaction and provide professional customer support.
Customer Service Representative Requirements:
High school diploma, general education degree, or equivalent.
Ability to stay calm when customers are stressed or upset.
Comfortable using computers.
Strong oral and written communication skills.
Prior experience working in a customer support position strongly preferred.
Required Schedule
This is a remote, part time W-2 position with long term opportunities for growth and additional hours. The current required schedule for this position is as follows:
Sunday – Off
Monday – Off
Tuesday – 12pm – 5pm PST
Wednesday – 12pm – 5pm PST
Thursday – 12pm – 5pm PST
Friday – 8am – 1pm PST
Saturday – 8am – 1pm PST
APPLY TODAY!
Please send resume and cover letter here. Be sure to tell us about your customer service experience, any mountain biking experience and anything unique we should know about you.