Looking to tackle technical terrain?  Ready to add confidence to your riding?  Want to exit a corner with speed?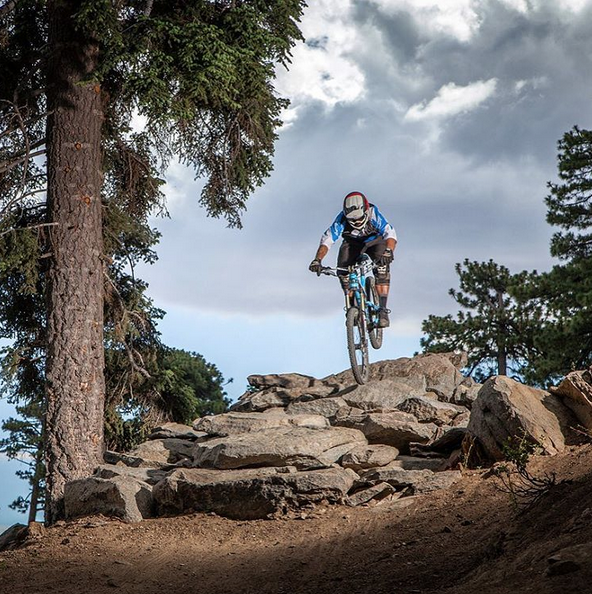 Want to improve your technical riding skills, descend a little faster and generally feel more confident on your bike?  You've come to the right place!  Leave this clinic ready to tackle rougher terrain and corners with greater speed and control.  Negotiate bigger trail obstacles and drops with commitment!  This clinic will also help you boost your speed on flat corners, bermed corners and flowing singletrack; all achieved with less pedaling and better use of the trails natural features.  It's all about the flow!
The Intermediate/Advanced clinic builds upon the fundamentals and gives you a full toolbox of mountain bike skills that you can apply to any terrain, in any location, and in any conditions; be it a gnarly backcountry trail or your local race course.  This full-day clinic also looks closely at the key elements to finding your flow and builds upon your existing foundation to improve your trail speed and energy management.
While we don't require it, we highly recommend you take our Fundamentals clinic before signing up for our Intermediate/Advanced clinic.  The Fundamentals clinics will not only teach you the core, "must-have" skills required to be a more advanced rider, but give our instructors an opportunity to assess your riding.  We'll point out any bad habits and recommend homework to best prepare you to take your riding to the next level.
Here's What We'll Cover
Some of the skills taught and practiced in the Intermediate/Advanced clinic may include:
Negotiating trail obstacles (i.e. rock gardens, roots, logs)
Steep transitions
Drops
High speed cornering (flat, cambered, bermed corners)
Technical climbing
Technical descending
Advanced braking
Reading the trail
Introduction to energy management & flow
Pumping for speed & air
Switchbacks
Mind skills

The Schedule*
8:45-9:00 Meet your instructor  | Arrival at course venue + equipment check
9:00-9:15 Let's get started | Introductions
9:15-9:45 Accelerated review of Fundamentals | With intermediate+advanced progressions
9:45-12:00 Morning skills session | High-speed cornering, Switchbacks, drops, rock dodge, technical climbing & descending
12:00-1:00  Lunch break | BYO
1:00-3:45pm Trail ride + skills application | Put those skills to work!
3:45-4:00 Review, questions & next steps | #Ridelikeaninja
*Clinic schedule and skills covered may vary according to location and terrain.
Upcoming Intermediate / Advanced Clinics