Ninja offers half day and full day Clinics and comprehensive 2-Day Camps that pull all of the Ninja curriculum together into one awesome weekend. For those riders who are looking to tackle varied terrain with confidence and skill, the 2-Day Camp is the best place to start. If you are looking for something a little more specific or don't have a full weekend to commit, check out the "a la carte" clinic options below.
If you've never taken a skills clinic before, regardless of your riding experience, we always recommend taking a Fundamentals clinic (offered as Co-ed Fundamentals, Women's Only Fundamentals and included in the 2-Day Camp curriculum). Even advanced riders often have bad habits that need to be corrected and a comprehensive review of the foundational riding skills will help to do just that. Start with the fundamentals to break those bad habits (even the ones you might not know you have)!
NEW in 2020, Ninja is offering Kids Clinics in select locations around the country. Kids Clinics are specifically designed for youth ages 8-12.
Still not sure which event is right for you? Read on for more insights…
ALL TOGETHER NOW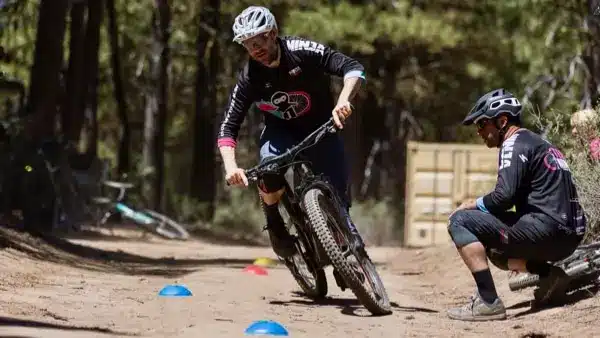 Who should attend?
You've been riding for a few years and have hit a plateau
You've mastered the basics and you're ready to take it up a notch
You're intimidated by some obstacles (rocks, logs, drops)
You're riding over/off of obstacles but not sure you're doing it right
You want to go faster!
You've been riding for a long time but never had any instruction
You've been riding a bike for 2 – 100 years, have a strong foundation on the bike and want to get better!
You've been riding for less than 2 years, but you've already attended a Ninja Fundamentals clinic and are ready for the next step
You're 15 years of age or older
The 2-Day Camp is the most comprehensive Ninja program and the best bang for your buck! These camps cover all of the same materials from the a la carte clinic options (detailed below) and providing you with one mega-progression session.
The camp kicks off with an overview of the foundational riding skills and builds up to more advanced material over the course of the weekend including jumping, high speed cornering, technical climbing/descending, drops and more. The weekend is taught in a progressive format meaning one skill builds on another, giving everyone an opportunity to progress at their own pace!
The 2-Day Camp is the best option for riders who have some riding experience under their belt and are ready to get a more complete picture of how to take their riding to the next level. Whether you're an experienced racer or a recreational weekend warrior, you'll ride away with an entirely new understanding of your movements on the bike.
A LA CARTE CLINIC OPTIONS
---

Who should attend?
You are brand new to mountain biking!
You're an experienced rider who has never had any formal instruction and you want an overview of all the foundational skills, but without the commitment of the 2-Day Camp
You want to take a Jumping Mini-Clinic. (A Fundamentals Clinic is required for riders with less than 2 years riding experience before taking a Jumping Mini-Clinic. We recommend everyone take a Fundamentals Clinic, regardless of riding experience.)
You're braking with 2 fingers
You are 11 years of age or older
Our Fundamentals Clinic offers a comprehensive overview of all the foundational skills of mountain biking (body positioning, effective braking, wheel lifts, navigating obstacles, etc.). The course is the perfect place for a new rider to get started and a great review for experienced riders who have never had any type of instruction.
Keep in mind, a Fundamentals Clinic is not a beginner clinic – it is a great place for beginners to start, but this clinic contains critical foundational skills we recommend it for riders of all experience levels. Even if you've been riding for 5, 10, even 15 years, you will leave a Fundamentals Clinic with a new understanding of body position on the bike, how to use your brakes, the mechanics of staying smooth and how to take your riding to the next level.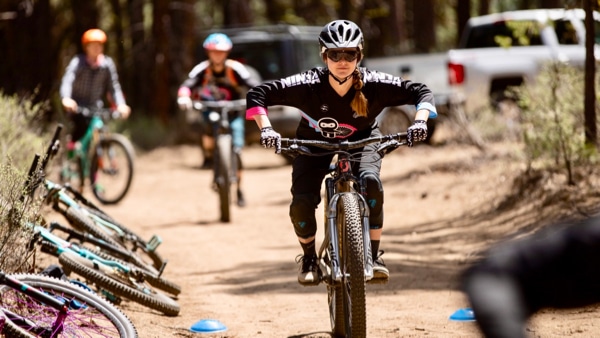 Who should attend?
You identify as female and are brand new to mountain biking!
You've been riding for a while but never had any formal instruction and you aren't ready or able to commit to a 2-Day Camp
You want to take the Jumping Mini-Clinic and would like to kick off the day working with other ladies. (A Fundamentals Clinic is required for riders with less than 2 years riding experience before taking a Jumping Mini-Clinic. We recommend everyone take a Fundamentals clinic, regardless of riding experience.)
You are 11 years of age or older
The Women's Fundamentals clinic covers the exact same curriculum as the Co-ed Fundamentals Clinic in a ladies-only environment. While all of our events are designed to be un-intimidating and no-pressure, sometimes it's just nice to learn surrounded by other women. Our women's clinics are led by inspiring female instructors (or the friendliest of male instructors!) who can offer relatable feedback and advice.
Who should attend?
You've never jumped before but you have mastered the foundational skills and you are ready to fly (and land)!
Your only jumping experience is getting air…..by accident
You're already jumping but with a 50/50 success rate
You've started jumping but you aren't able to clear tables and you aren't sure why
You often fly off your pedals in the air
You've taken a Ninja Fundamentals clinic and/or have a minimum of 2 years riding experience. We strongly recommend both!
You are 11 years of age or older
This clinic is designed to give you the tools, understanding and knowledge to safely get two wheels in the air … and back down again! This clinic takes jumping back to basics – starting with wheel lifts and an introduction to bunny hops and manuals.
Like all of our clinics, participants are encouraged to learn at their own pace. Jumping clinics are always taught in a fully controlled environment. We will teach on a local trail if it offers a safe, progressive place to teach jumping (i.e. a 4-10 ft tabletop). Other times we will teach on manufactured ramps that are designed to allow riders to safely progress from a table to a small gap (max 5ft). Riders are encouraged to progress at their own pace. For some, that means clearing a 2ft table and for other riders it's clearing a 5ft gap.
No matter what, you will leave the Jumping Mini-Clinic with a more thorough understanding of the mechanics of jumping your bike and have a clear idea of what you need to practice.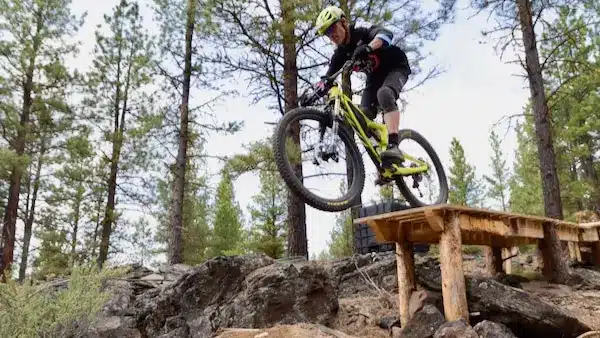 Who should attend?
You've already taken Fundamentals and you are ready to take it to the next level!
You want to learn how to exit a corner with SPEED.
You're looking for more confidence on the trail.
You're struggling to clear those technical climbs/descents and you're not sure why.
You're ready to drop it like it's hot (yes, we teach how to ride drops in this clinic!).
You're an XC or endurance rider looking to improve your technical skills.
You are 15 years of age or older.
The Intermediate / Advanced Clinic is all about finding your flow and tackling terrain and features that have been getting in the way of your trail mojo. This clinic will cover topics such as steep transitions, riding drops, high speed cornering, tackling roots and rocks, switchbacks, bermed corners, and pumping for speed and air.
Leave this clinic ready to tackle rougher terrain, corner with greater speed and control, negotiate bigger trail obstacles and hit drops with commitment and confidence. This is a full day clinic so pack a lunch, grab a friend and get ready to get shreddy!
You must have two years minimum riding experience or have attended any Ninja fundamentals skills clinic or a mountain bike skills camp in the last year in order to attend this event.
---

Who should attend?
Kids between the ages of 8-12
Kids who know how to ride a two-wheeled bike but are new to mountain biking
Kids who have experience mountain biking but need help making their way down the trails. Roots, rocks and gravel, OH MY!
Kids who are considering racing and want to make sure they have all the important foundational skills needed to get from the start line to the finish line
Kids who won't listen to their parents riding advice and need someone else to teach them about staying safe and in control on their bike
Kids who have a bike with hand brakes and mountain bike tires
Kids who are excited about mountain biking and eager to learn and have FUN!
We recognize that kids learn differently than adults, so we have developed a kid-friendly, fun and engaging curriculum that covers the key foundational skills that every young mountain biker should learn. Through games, drills and trail riding, your kid will leave with a new level of confidence on their bike and more tools in their riding toolbox. Keep in mind, this is not a group ride or a babysitting session. Ninja Kids, like all Ninja programs, is focused on skills development. Each skill is taught in a step-by-step manner with each skill building off the one before allowing kids to progress at their own pace with the encouragement of certified Ninja instructors and other young riders. What better way to inspire young riders than surrounded by a group of their peers!
Whether your kids are just getting started with mountain biking, dreaming of leaving their siblings in the dust or gearing up for a race, Ninja Kids is the perfect place to start. Set your kids up for mountain biking success by signing them up for a Ninja Kids program today!
OTHER CONSIDERATIONS
---

Which location should I attend?
The Ninja curriculum varies slightly depending on the terrain and features of the local trail network. With that, each clinic location offers something different and unique!
Looking to tackle big rocks and ledgy drops? Head to Sedona, AZ. Is high-speed cornering your jam? Checkout Bend, OR. Ready to roll over roots like it ain't a thing? See you in Brevard, NC. No matter what location you pick, you are guaranteed to walk away with more confidence and an expanded toolbox of skills.
Not sure where to take your clinic? Chat with us – we'd love to help!
What is an "Adventure" 2-Day Camp?
2-Day Camps that are designated as "Adventure" cover all the same curriculum as other 2-Day Camps but in highly sought after destination riding locations. Adventure camps provide you with the same professional instruction as other Ninja clinics while allowing you to ride some of the best trails in the country.
Don't worry, camps that aren't designated as Adventure Camps will still challenge you and you'll absolutely leave a better rider. We work hard to select the best teaching locations and around the country and you might be surprised by how great that local trail network is for learning.
You've already attended a Ninja clinic – what's next?
Ever watched a movie twice? Or three times? Do you notice that every time you watch that movie, you pick up on something new? Same goes for mountain bike instruction. We cover a LOT of material in our clinics and coming back for a repeat event gives you an opportunity to pick-up on something new and soak up even more information.
Join us for a Ninja clinic in a different location! With different instructors all across the country teaching to their local trail features, you're sure to ride off with new takeaways from a new spot.
One of these is not like the other!
We like to mix it up occasionally and offer an event that doesn't match the clinic options listed above. For example, every year we offer a 3-Day Camp at Mulberry Gap in North Georgia that combines our traditional 2-Day Camp curriculum with longer rides and more time to apply your skills to on-trail features (plus blueberry pancakes, hot tubs and fireside hangs).
Still not sure which is event is right for you? Hit us up on the Ninja Live Chat!
Want to be the first to know about the next awesome Ninja event and get bike skills delivered straight to your inbox?