What happens when 37 Ninja Instructors from 17 states gather in one place for 5 days and you add a mini bike park, a jump line, 1 outdoor shower, and 547 cups of coffee?
Ninja's first ever Instructor Retreat.
The goal was simple: to join forces to further develop the Ninja curriculum so it's clear and consistent, keep an open dialogue, and to ultimately deliver you the very best skills instruction in every corner of the country.
What does all this mean for YOU?
This means that wherever you choose to attend a Ninja event, you can know with confidence that you're getting the most up to date teaching techniques to help you take your riding to the next level. As instructors, it is our job to never stop learning and to always be pushing and progressing our own riding. Ninja is committed to helping all of our instructors on this learning journey by offering consistent training and feedback opportunities.
What do you teach the teacher?
Over the course of 5 days, we covered it all!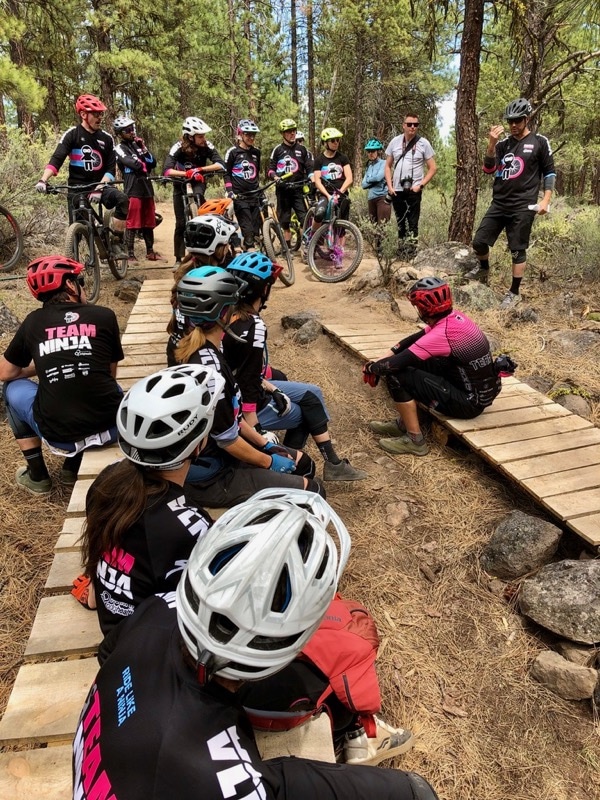 Back to Basics
We spent an entire day reviewing the Fundamental Clinic curriculum, our most popular clinic offering. The Fundamentals Clinic is designed to give a comprehensive overview of all the foundational skills that create an important baseline for riding success. Notice that we don't call this a "Beginner Clinic"? This curriculum is designed to challenge riders of all ability levels because at the end of the day, perfecting your foundational skills is paramount to tackling more advanced skills. Our instructors further developed their tool box of skills, drills and feedback to offer up to participants. We guarantee that riders of all ability levels will roll away from a Fundamentals Clinic with light bulbs going off.
Corners, Drop and Jumps OH MY!
A major highlight of the retreat was learning from world-renowned instructor and former pro downhill racer, Simon Lawton from Fluidride. Simon provided his insights on some of our more advanced curriculum, namely teaching corners, drops and jumps. We did an in-depth dive into body position, footwork and pressure control. Oh and did we mention the pre-turn curriculum? What's a pre-turn you ask? I guess you'll just have to come ride with us to find it.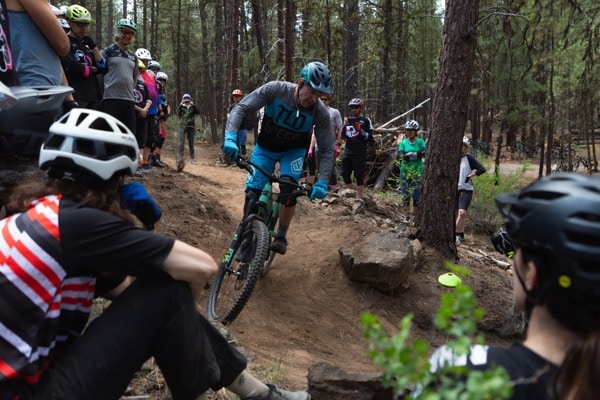 Psst – If you want to work on any of these skills, checkout a Jumping Mini-Clinic or Intermediate/Advanced Clinic!
Feel it out!
Our instructors learned new ways to help you find your balance point through static demos like the manual static hold pictured below. Have you been wanting to learn how to manual? Ninja Instructor reporting for duty!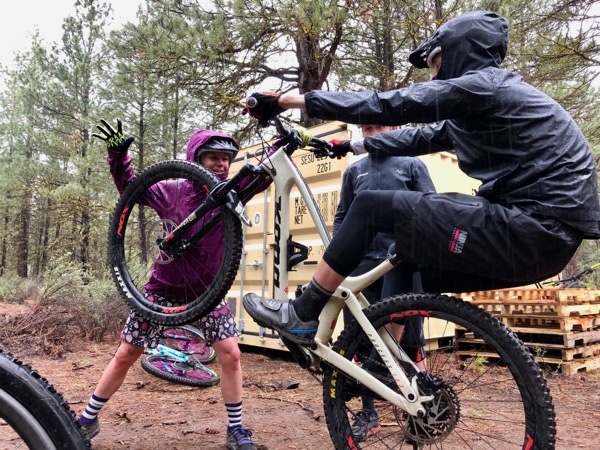 Sharing is caring.
With instructors spread out all across the country, we love it when our team has an opportunity to sit down face to face and share their experiences with one another. How do you like to teach [insert skill]? What props do you like to teach with? What sayings do you use in your clinics? What has or hasn't worked for you in the past?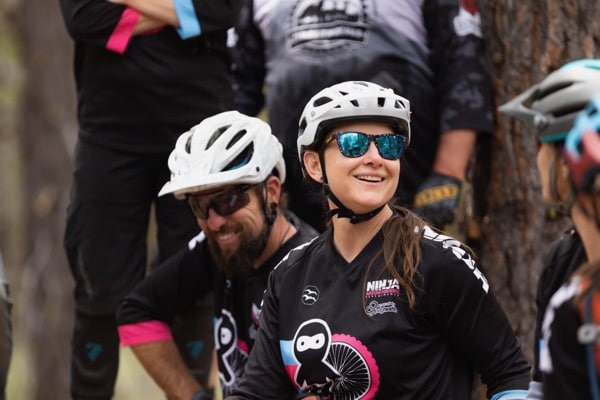 Rolling with the (weather) punches
We spend a lot of time and effort planning out the logistics for our 600+ clinics yet sometimes, despite all the preparation in the world, you get thrown a curve ball. Like a snow storm in May. Here is what this dusting of snow taught us – attitude is everything. A positive attitude and a little ingenuity can turn a May snow storm into a great day of learning.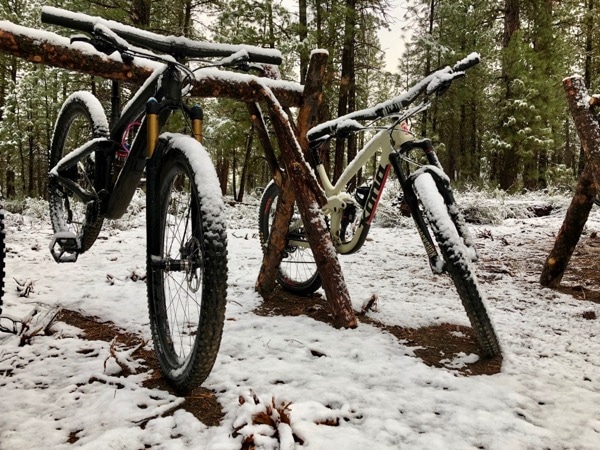 Because, FUN.
Time to trade in our bikes for a new form of transportation… we added 15 kayaks to the equation for a little friendly competition on the river. Here are your top paddlers!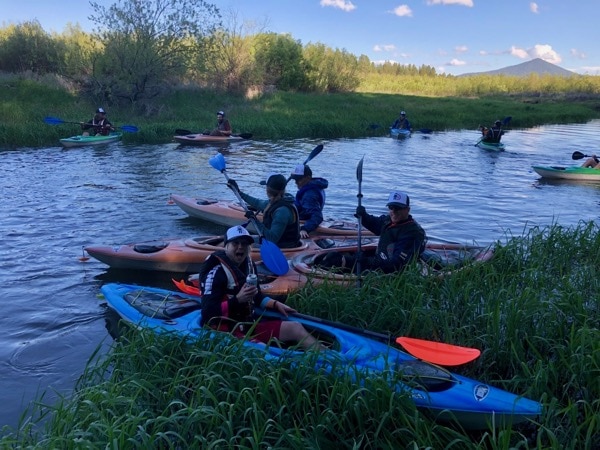 It's not a Ninja party without a little live music and a dirt dance floor, am I right?! Local family band Jazz Cabbage performed with 11 year old front man Jacob Junior bringing down the house (err… tent) with a soulful rendition of House of the Rising Sun. A future star in the making!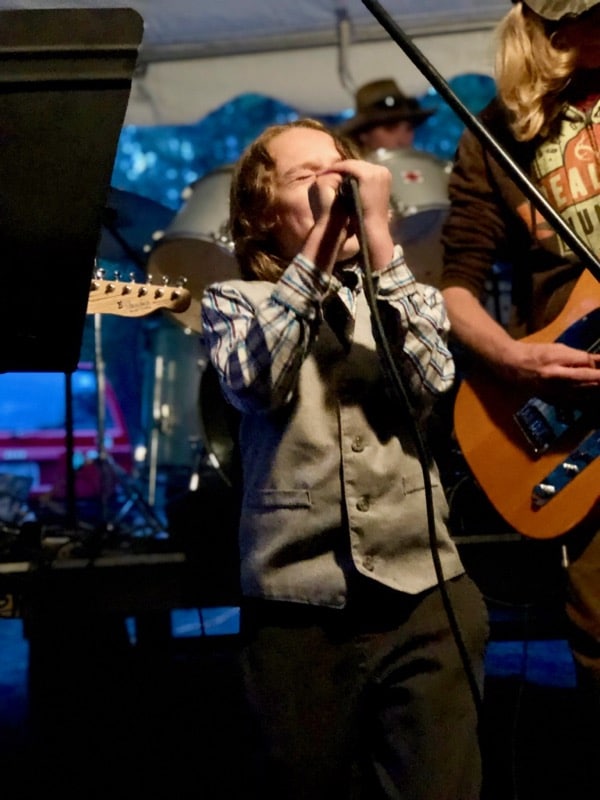 After the snow melted and we were cleared to ride Spence Mountain, the crew suited up to see for themselves what all the buzz is about. Flow? Check. Tech? Check. Smiles ear to ear? CHECK CHECK CHECK!
Shout-outs!
Ninja Instructor Jeremiah "Scratch" Stone has a secret talent. In addition to being an awe-inspiring rider and instructor, he's a master trail builder. Jeremiah worked hard for 6+ weeks to build out a private mini bike park at Ninja World HQ specifically designed to offer a wide variety of progressive features perfect for teaching and learning.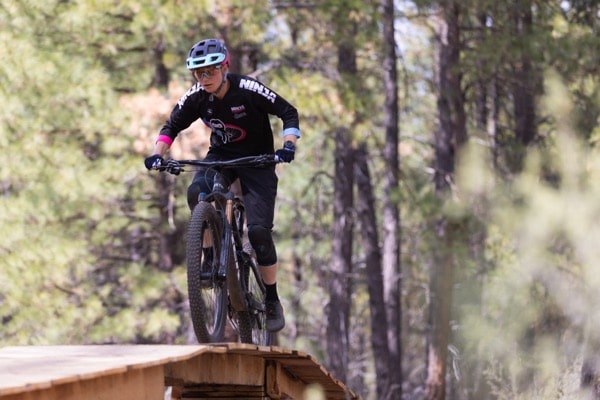 Throughout the weekend, Ninjas scored helmets and sunglasses from our valued sponsor, Rudy Project. Thanks for keeping our domes safe and stylish.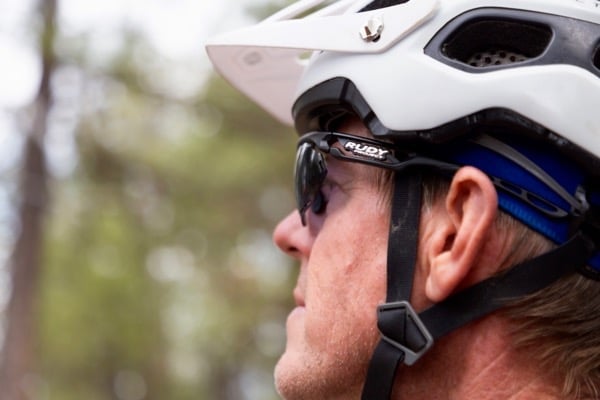 Huge Ninja thanks go to Zach's Bikes in Klamath Falls for getting Ninjas from all over the country set up on demo bikes and to Dirt Mechanics for working so hard to build and maintain one of our new favorite trail systems, Spence Mountain.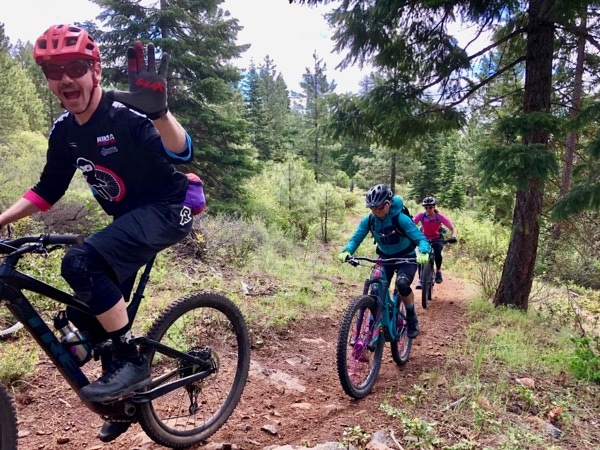 The Mushy Stuff
The Ninja family is elated to have such an incredible, fun and hard-working group of instructors. We can't wait to continue to grow with you all!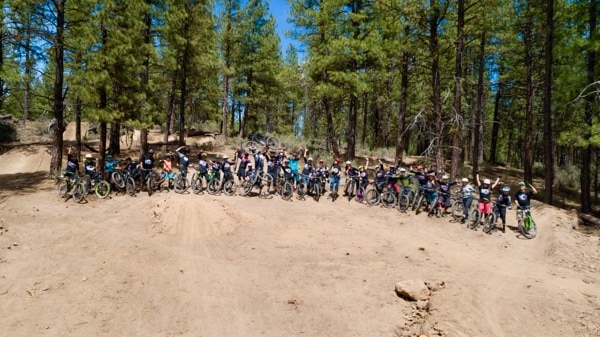 On behalf of the entire 70+ Ninja instructors, we cannot WAIT to ride with you at a clinic near you!