He's a wild man with a wild plan, living the nomad life and chasing trails all over the place. He loves long rides in the hills, wheelies, and post ride meals. As a coach, he loves sharing the stoke and helping people have more fun on their bikes!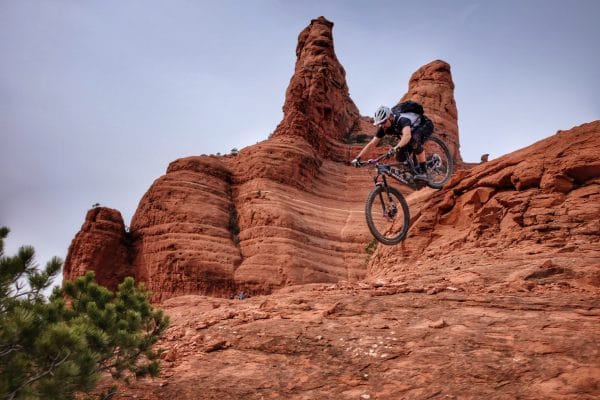 Home Base
Sedona, AZ

Other Gig
Trail Builder and Writer

Instructor Certifications
PMBIA Level 1

Favorite type of mountain biking terrain / feature
I love the tasty tech, but am down to clown on some freeride features and jumps!

Favorite post-ride food or drink
I've been known to tear into some wings or smoked turkey after a ride, only coming up for a breath of air and a fistful of sweet potato fries!

Favorite Riding Tip
Have more fun and play!

Favorite riding partner
Beautiful trails are better with Becky Jo's company, and she always takes the best snack breaks! Not to mention her camera skills!

How did you get into mountain biking?
I started riding in college to explore the area around me, leading to a dirt jump spot and trail network where I learned to build and grew a bigger passion for riding!

If you could live anywhere in the world, where would you live and why?
Tasmania! It's like another planet with amazing trails and Jurassic Park looking plants! And there's barely any people!

Follow Jeremiah on Instagram @vitabrevis.
Looking to ride with Jeremiah? You can catch him (and Wombat!) at one of our many clinics in Oregon, Washington, Utah, and Arizona.