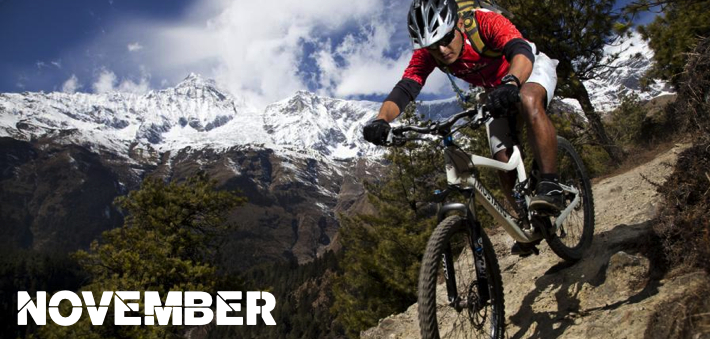 In this Newsletter…
• Skills Tips for November – Steep Descents
• Ninjas are Heading to Orange County
• Professional Bike Fits – What You Need to Know
• Team Ninja Information Meeting
• Zumwalt's Bike Shop Year End Clearance
• How to Host Your Own Skills Clinic
• Women's Only Skills Clinics
• Ninja Night Race – Recap
• Ninja Exclusive Offer for November
• One-on-One Skills Sessions
• Is a Cycling Coach Right for You?
• The Ninja Market is Open for Business
• Quick n' Dirty Race Schedule
• Upcoming Clinic Schedule
• The Perfect Holiday Gift
• A New Kinda of Gym – Free Mountain Bike Workouts
• Bonus Skills Tip – Riding at Night

Skills Tip for November
How to Ride a Steep Descent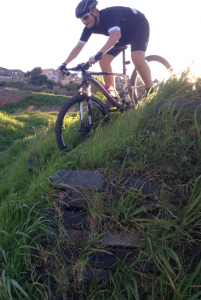 Before you tackle any unfamiliar section of trail, take a minute to evaluate the situation. Look for what may be an obvious 'line' (a route that most other mountain
bikes have taken). This route may not always be the most efficient choice or even the smoothest, but it's usually the path of least overall resistance.
As you approach the decent, slow down, bring your weight forward… (more…)

Ninjas are Heading to Orange County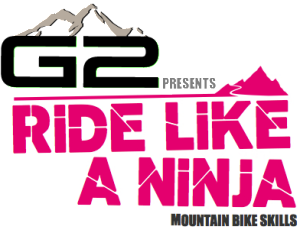 We are excited to announce we're hitting the road again! This time, we've got Orange County in our sights, and we are thrilled to partner with G2 Bike to offer three clinics on the January 18–19, 2014 weekend.
This cyclist's dream shop has got something for everyone—you can head over to pick up training tools, or a training plan (complete with coach!) to help you be your best in whatever discipline speaks to you. G2 Bike's Manager, Ted Willard, our host for the weekend and fellow coach said, "I discovered the joy of helping athletes develop and strive for more than they think they are capable of." To that we say, "Now that's the spirit!"
Join us and learn to Ride Like a Ninja. You'll soon conquer your fears… (more…)

Does Your Bike Fit You?
I mean really fit.
Because let me tell you, there's a lot more to it than a couple measurements and turns of the allen keys.
I haven't had a fit in a few years, and with a nagging pain in my left knee I thought it would be best to call in the pros. After listening to Aaron passionately discuss saddle heights and pedal mechanics… (more…)

You're Invited!

Team Information Meeting
We wanted to interrupt your regularly scheduled Ninja-ing to personally invite you to our upcoming Team Ninja Informational Meeting.
Team Ninja is open to everyone, no matter what level rider or cycling discipline. You just need to ride a bike!
If you'd like to learn more, join us for some delicious pizza and beer. And if you know someone who might want to join the team, bring 'em too! The meeting will be November 21, 2013, 6pm at Lefty's in Mission Hills. More information and RSVP here.


Have you been waiting for the best deal so you can finally upgrade your bike and not break the bank? Now is your chance, the deals won't get any better than this. Zumwalt's Cycle Center is clearing out their 2013 inventory to make room for the 2014 models. Find the bike that's just right for you at a great price. Stop in today for a test ride and tell 'em San Diego Mountain Bike Skills sent you!! Only $100 down required for Christmas layaway. Financing is available OAC. Details here.

Interested in hosting a mountain bike skills clinic at your bike shop?

Hosting a mountain bike skills clinic is a great way to get some 'zero-cost' exposure to promote your shop. We love it because it give us a home-base for our clinics and the riders love it because they've got a place to rent or demo bikes, pick up parts, accessories and check out new bikes.
Check out all the details… (more…)

Did You Know?

We Offer Women Only Clinics. Our women's only mountain bike skills clinics teach you the same important lessons as our co-ed skills clinics in a supportive, un-intimidating manner.
These clinics prove to be advantageous as they allow participants to test their limits without any unnecessary stress or pressure… (more…)

Ninja Night Race
World's first USAC Sanctioned Night MTB Race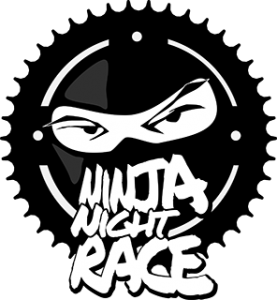 We asked and riders responded: YES, we want to race our mountain bikes at night. And so, together we made history at USA Cycling's first-ever sanctioned race in the dark. Thank you to everyone who came out to support the inaugural NINJA NIGHT RACE. This sold-out event will go down in the history books… (more…)

Ninja Exclusive Offer
$100 Off Professional Bike Fit *
We've partnered up with the fit experts at Inner Strength Fitt Lab Training Systems to offer you the professional fit solution you've been looking for.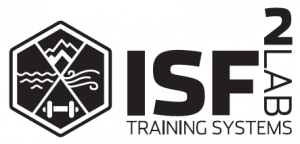 Would you like to know how to set up your mountain or road bike so it is perfectly matched to your height, weight and riding style? Would you like to know how to find the perfect riding position to maximize your comfort and efficiency? Perhaps you are in the market for new bike and need to know what type and size of bike would suit you and your riding.
If this sounds like you, then ISF's Professional Bike Fit could be just the thing to help get you and your bike working in perfect harmony.  Click HERE to schedule your fit (use promo code: NINJA). *Discounted offer is only valid for fits schedule before December 31, 2013.

One-on-One Skills Session
Individual Skills Coaching

Have you already attended one of our skills clinics and now want to focus on mastering just one or two specific skills?
Is your schedule jam packed and preventing you from attending the scheduled group clinics?
Or maybe you're a loan wolf that just doesn't like being in a group setting at all. To address these situations, San Diego Mountain Bike Skills is now offering One-On-One Skills Sessions.
One coach. One student. 100% attention.
The beauty of the One-on-One sessions is that you, the student, can dictate what you want to learn and how much time you want to spend on each skill… (more…)

Do You Want to Get Fitter and Faster?


You've come to the right place! Coach Richard is currently accapting athletes of all levels. Richard is a USAC Certified Cycling Coach at Crank Cycling currently working with Cat 3 to Pro racers as well as non-competitive recreational riders seeking to become their best. To set up a time to discuss your goals and select a program that fits your cycling level and budget, click HERE…

Ninja Market is Open for Business

Check out the Ninja Market today to buy your very own 'Ride Like a Ninja' Jersey, T-shirt and more. Sorry, no throwing stars… yet. We'll be adding Sock Guys Socks to the store very soon, we're just waiting for the first order to make it to Ninja HQ. Stay tuned for those and more Ninja gear very soon.
We have most sizes of the jerseys in stock now, the bib shorts order is being place at the end of the month and we expect the to arrive the 1st week of January. If you'd like bib shorts to go with your jersey, order them right away to make sure they get in our next group order…
San Diego Mountain Bike Skills is a proud sponsor of the Quick n' Dirty XC race series. These events are quickly gaining popularity as a fun yet challenging series of races that keeps you tuned up, doesn't break your wallet, and in most cases, gets you home in time for dinner. More information HERE…


The Perfect Holiday Gift!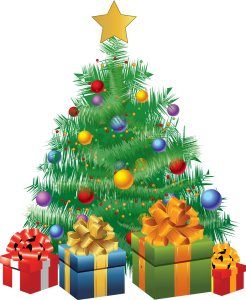 Mountain Bike Skills Gift Cards are the perfect choice for a holiday gift, or any other gift giving occasion.
Gift Cards can be used toward any Mountain Bike Skills clinic or camp.  *If you purchase your gift card before November 30, 2013 — we'll include a 'Ride Like a Ninja' T-shirt at no additional charge.

How About a New Kind of Gym You Actually Go To?
The time changed and it gets dark now at 5:00pm, so what?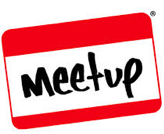 We're still riding our bikes! Join us every Tuesday evening at 5:45pm until 7:30pm for a free night mountain bike workout. Make sure to bring your lights!
These workouts are appropriate for riders of all levels, from true beginners to experienced racers. The focus of each workout will vary from endurance, aerobic to anaerobic including efforts to increase your lactate threshold, Vo2Max and over all just make you FITTER, FASTER and STRONGER!
To learn more about these workouts and to RSVP, check HERE…

Bonus Mountain Bike Skills Tip
Riding at Night

Whenriding at night, use two lights for best visibility. One on your handlebar to light the trail directly in front of you, and a smaller light mounted on your helmet pointing in the direction you're looking. If you only use a bar mounted light, looking around corners and navigating switch-backs will be very difficult. An ideal combination of light power is 500+ lumens on your helmet and 1000 lumens on your bars. The two lights together make night riding a much more enjoyable experience.