If you're new to mountain biking, you may have some questions that you're hesitant to ask. But, as Mark Twain said, "He who asks is a fool for five minutes, but he who does not ask remains a fool forever." To help you out, we've answered 12 common mountain biking questions that new riders often have.
Question: Do I wear underwear under my chamois?
Answer: No, it's best to go commando (i.e., don't wear underwear under your chamois) and wear shorts or pants while riding. Chamois are designed to be worn directly against the skin, and wearing underwear can lead to chaffing and prevent the pad from absorbing sweat as intended.
Question: When should I use my dropper post?
Answer: As a general rule, use your dropper post anytime you're going downhill. At first, you may have to consciously remember to drop the seat, but it will soon become second nature.
Question: What should I wear when mountain biking?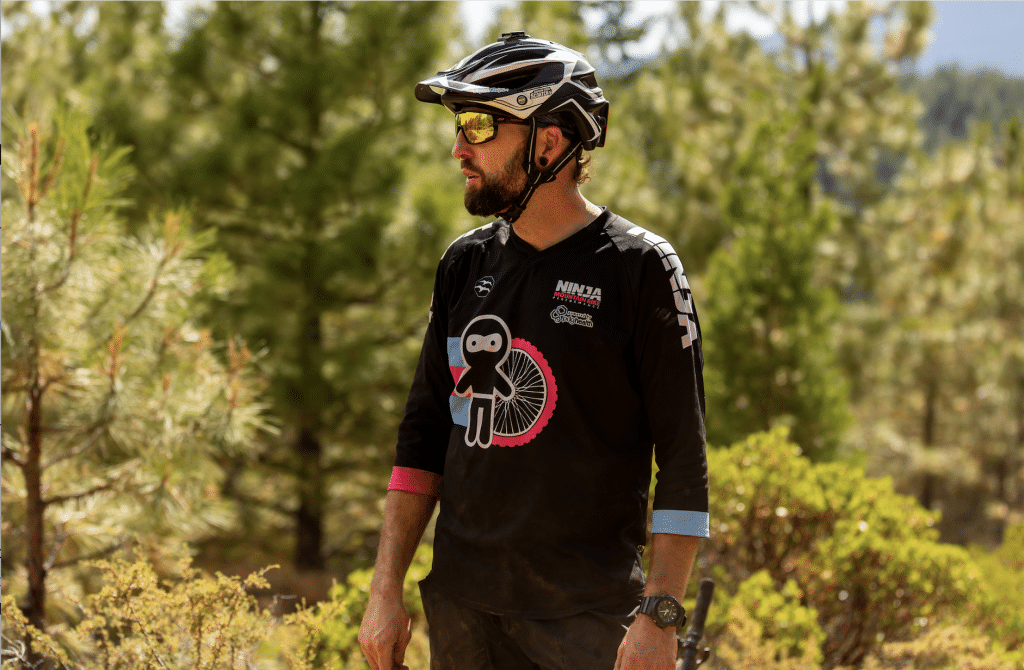 Answer: The most important thing to wear is a helmet. Beyond that, it's up to you to wear what you feel most comfortable in. Some people wear chamois and MTB-specific shorts and jerseys, while others wear jean shorts and a t-shirt. It really depends on the type of terrain and what makes you feel safe. But if you're riding on loose, rocky terrain or on a trail with obstacles, it's best to wear long sleeves to protect your skin.
Question: Where should I store my bike?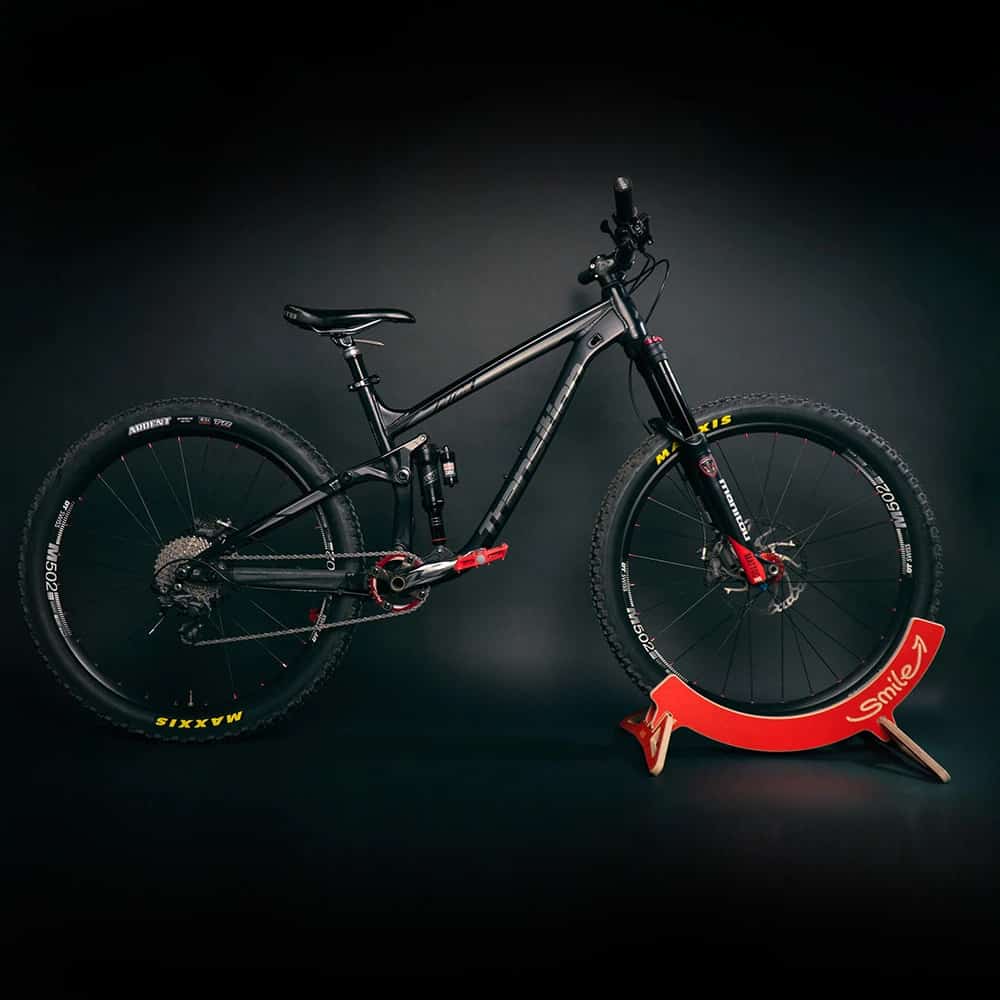 Answer: Ideally, you should store your bike in a dry space protected from the weather, such as a garage. If you have a dropper post, make sure to store your bike with the seat up. Check out the Ninja best seller mountain bike stand for great solution.
Question: Do people really ride with fanny packs?
Answer: Yes, fanny packs are back and they're practical for storing essentials and taking the weight off your shoulders while riding. If you're going for a short ride, you may only need a small fanny pack to carry your phone and a snack. But if you're going for a longer ride and your pack is also your water supply, extra clothing, and tool storage, you'll want to invest in a larger hip pack.
Question: Do I need to be able to get off the bike on both sides?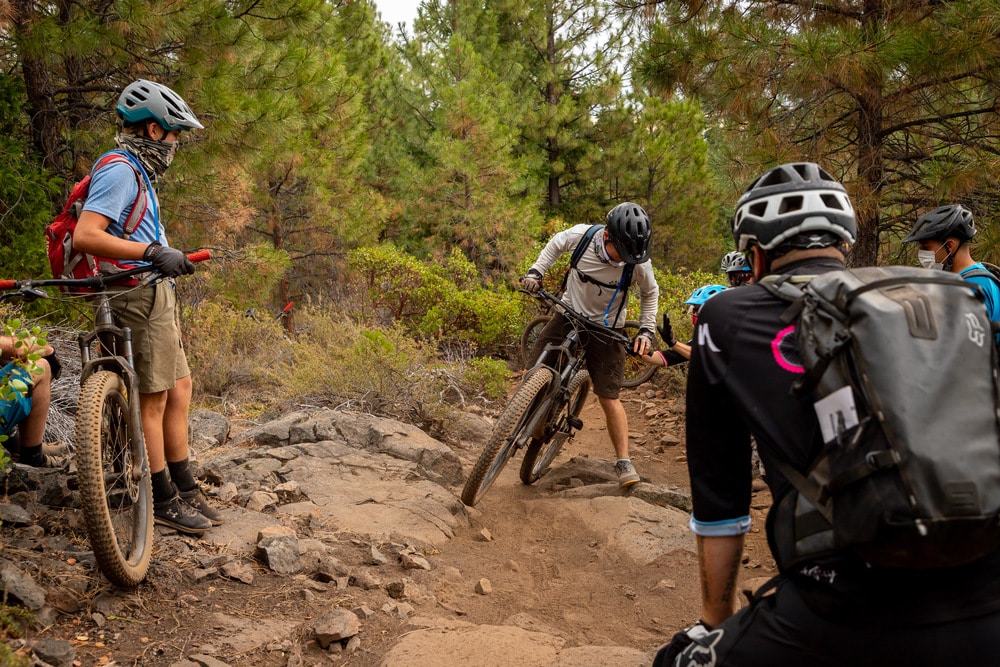 Answer: Yes, being able to dismount your bike on both the left and right sides will allow you to select the safest option when you're on variable terrain. Remember to always get off your bike on the uphill side to avoid falling down the hill.
Q: Who has the right of way on the trail?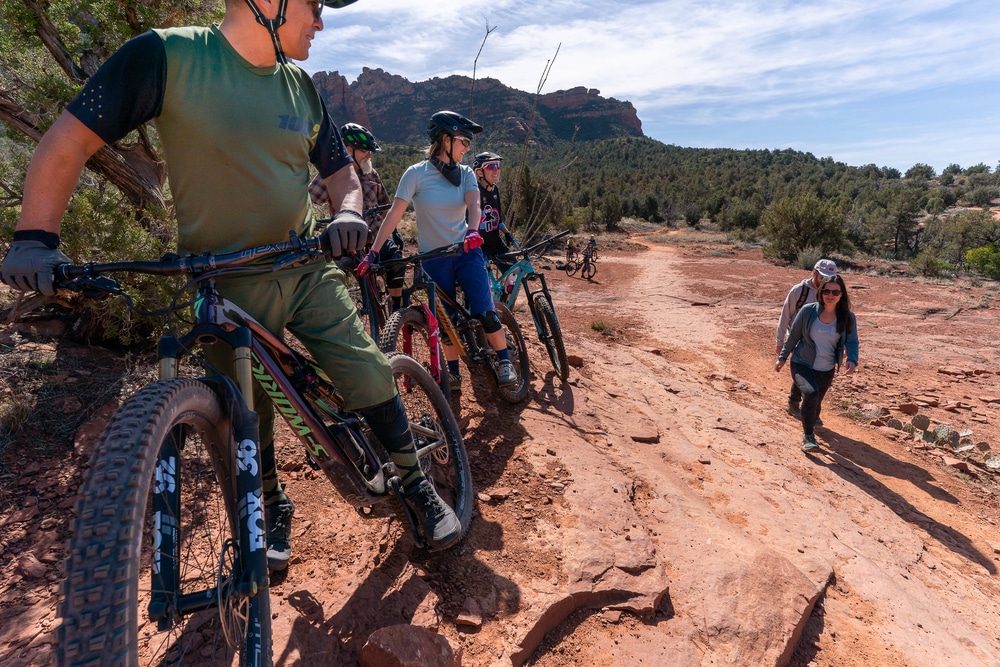 Answer: Generally, hikers, runners, and horses have the right of way before mountain bikers enter the mix on public multi-use trails. However, it's always a good idea to use your best judgement and be aware of your surroundings when on the trail.
Question: What is rebound and what does it do?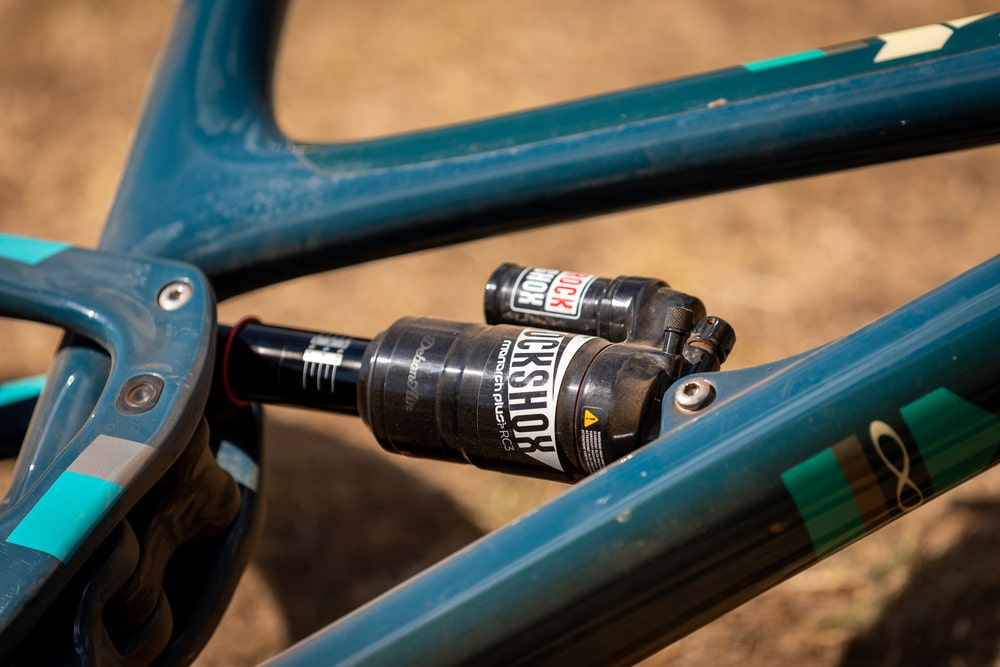 Answer: Rebound is the speed at which the suspension returns to its full length after it has been compressed to go over an obstacle. A properly adjusted suspension should allow the wheel to stay in contact with the obstacle during compression and rebound should not be noticeable. If you feel like your suspension is causing you to bounce around, it likely needs to be adjusted.
Question: When should I shift gears?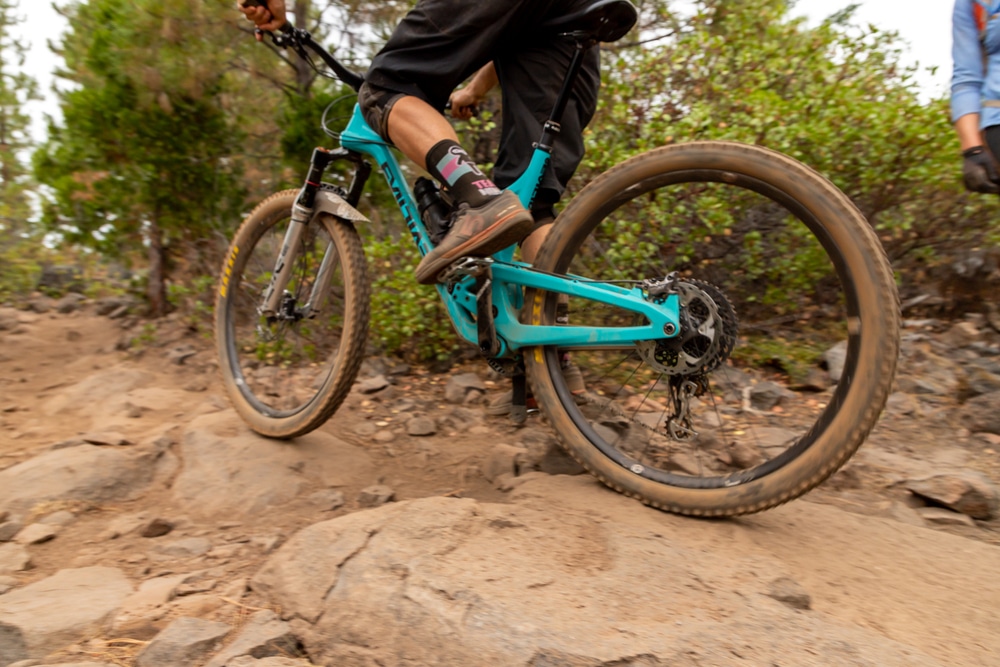 Answer: The purpose of gears is to maintain an even cadence while pedaling, and shifting allows you to optimize your speed and power. When going uphill, shift to an easier gear to reduce the strain on your muscles and knees. When going downhill, shift to a harder gear to gain more power and momentum. On variable terrain, you'll need to shift frequently to maximize the efficiency of each pedal stroke.
Uphill: If you're going uphill, and you want to stay seated, you need to shift into an easier gear (like a mullet, that means small ring in front big ring in the rear, if your bike is set up with a 1x drive train focus on the party in the back). If you don't shift, you'll find that your leg muscles fatigue faster, and there's more strain on your knees because it takes more effort to push the pedals (and your weight and the weight of your bike) uphill with each pedal stroke.
You'll also want to keep moving at a pace and speed that allows you to keep your balance, so it's about finding the gear that allows you to keep moving with the least effort and strain on your muscles, while still moving at a sustained pace. If you stop on a hill, it's harder (but not impossible) to start again without spinning your tires (losing traction).
Downhill: When you're going downhill; gravity, the weight of your body and the weight of your bike will help carry you down with ease. You'll want to shift into a HARDER gear (the smaller ring in the back) so that each pedal stroke gives you more power and momentum forward. If you're not feeling any resistance, and your legs are just spinning, then you're not adding to your speed. You're just moving your legs in circles for no reason in particular.
Variable Terrain: Most rides aren't just uphill or just downhill, they're an undulating combo of the two. This means you'll be shifting quite a bit as you transition from uphill (easier gear) to downhill (harder gear), in an effort to maximize the efficiency of each pedal stroke and keep your legs from burning.
Question: Are my tires too low?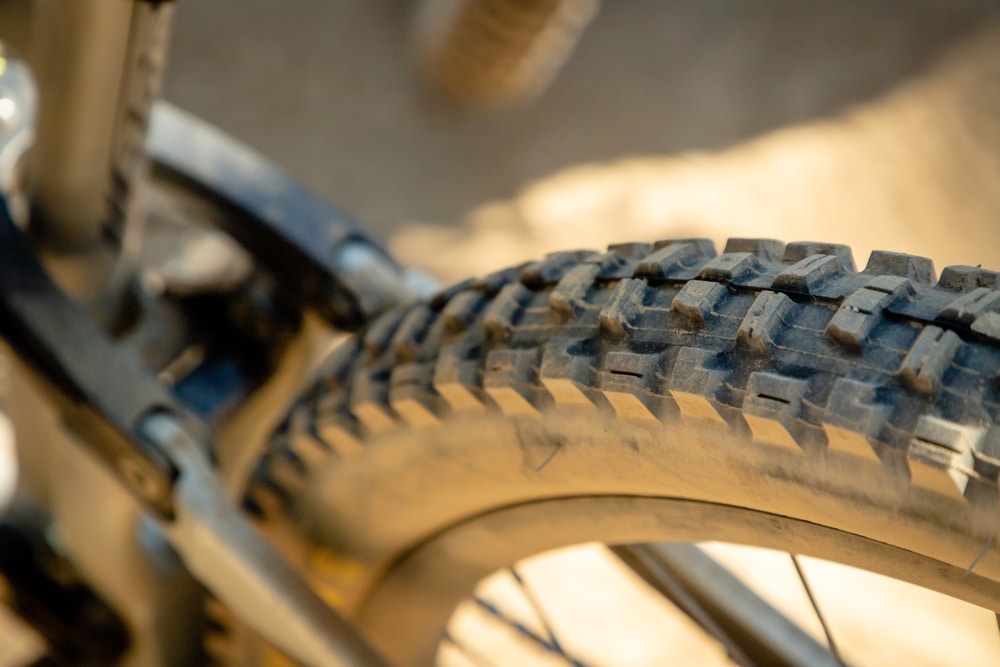 Answer: You should check your tire pressure before every ride, as it depends on your weight as a rider and the terrain. Low tire pressure can cause flats or damage to your rims and decrease stability, while too much air can cause you to ride like Fred Flintstone. Ideally, your tire should have enough air to deform slightly to maintain contact with obstacles, while still providing enough support. The average 6ft tall, 185lbs rider typically sets tire pressure between 25-30 psi, while smaller riders tend to run lower, typically between 22-26 psi.
Question: Why are pedals that you clip into called clipless?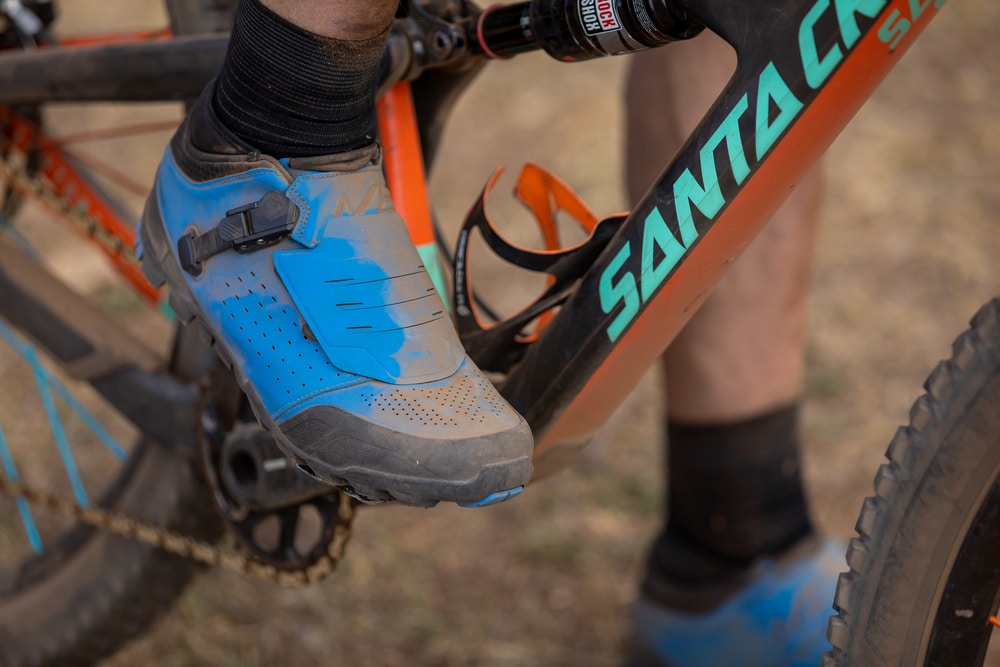 Answer: The term "clipless" is a bit of a misnomer, as these pedals are actually designed to be clipped into. The name comes from the fact that they do not use the traditional "toe clips" that were commonly used in the past to secure the foot to the pedal. This allowed for increased efficiency by securing the foot to the pedal.
Question: What is better, clipless or flats?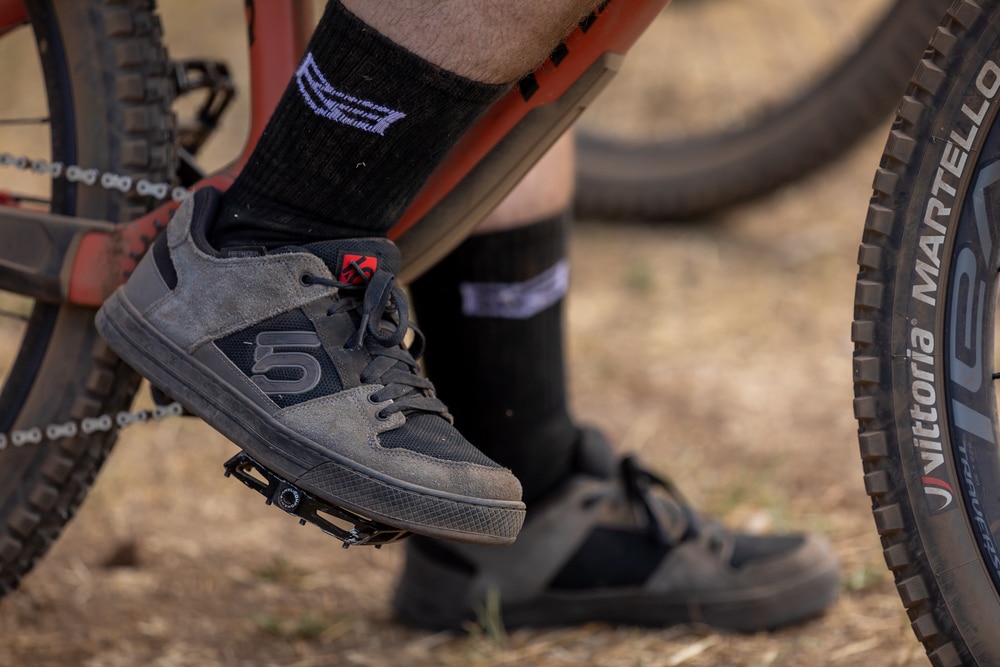 Answer: It's a matter of personal preference. Clipless pedals allow for more efficient pedaling and better power transfer, while flat pedals offer more versatility and freedom to move your feet around. It's worth trying out both types of pedals and see which one you feel more comfortable with.
ProTip: If you're just starting out, it's best to learn on flat pedals. That way you learn all the proper foot techniques and you can bail easily if you find yourself between a rock and a hard place (literally). Eventually, you may transition to clipless pedals, but that's purely preference.
BONUS Mountain Bike Question:
Question: Should I wear knee pads?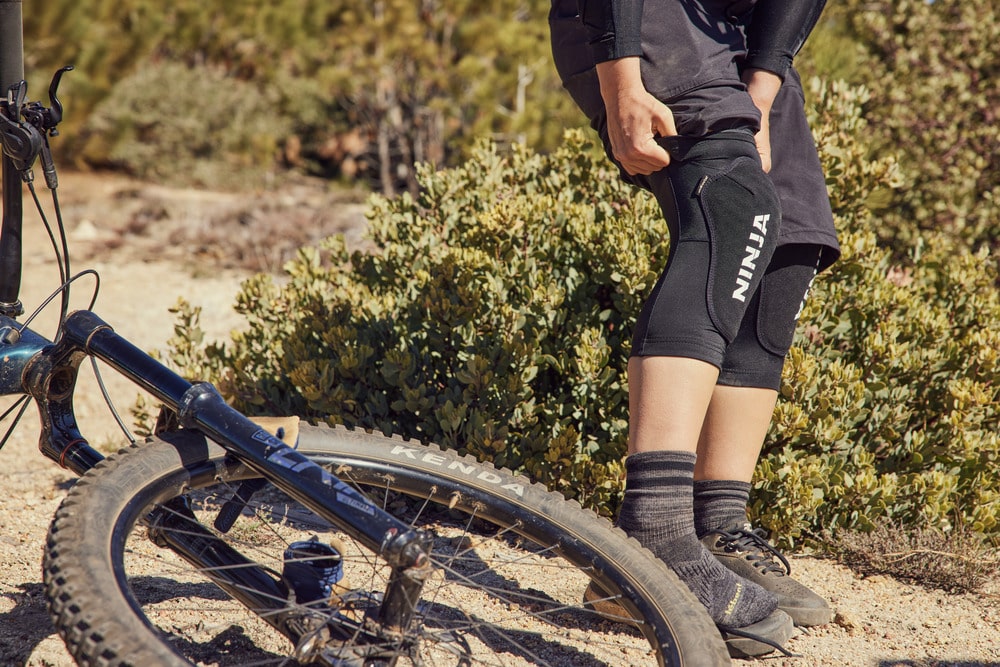 Answer: Whether or not to wear knee pads while riding a mountain bike is a personal choice and it depends on what makes you feel safe and comfortable while riding. It's worth noting that knee pads can provide added protection in case of a fall and can help prevent injuries.
It's also good to consider your riding style and the type of trails you typically ride. If you're riding mostly smooth and flowy trails, you may want to consider a light-weight pad, or for a rocky trail — we would recommend a heavier pads with more protection. Ninja is proud to offer some of the best knee (and elbow) pads on the planet, check here for all the details.
Short and sweet – if you have a question, it's probably not as dumb as you think. Even the experts have their moments of confusion. So, don't be shy and ask away! We're all about helping you become a top-notch mountain biker, and that includes answering any burning questions you may have. So, if you're curious about something, just give us a shout and we'll spill the dirt.