Why does jumping look so easy on youtube and feel oh-so-hard in person?! Jumping takes nearly every mountain biking skill and puts them all together into one beautiful harmony and with so many moving pieces, it's easy to miss a note. Let's do some troubleshooting and figure out why your jumping might be a little off key.
1. Feet coming off the pedals
Most often we see feet coming off the pedals when a riders body is coming up faster than their bike, or the body is too stiff and ends up pushing the bike away from the body.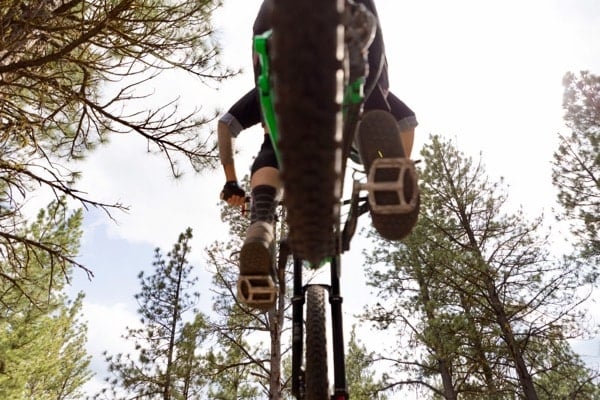 The Fix
When jumping, you have to allow the bike to travel upwards towards your body by bending your arms and legs and drawing the bike up towards you.
Also consider your equipment. Good shoes and pedals are vital for maintaining contact with your bike. Purpose built bike shoes work far better than any kind of tennis or skate shoe and mountain bike-specific flat pedals (not the $10 plastic platform pedals) are a MUST for jumping. If that doesn't seem to be the issue, get familiar with your suspension and consider making some adjustments (checkout Suspension Setup in 4 Easy Steps).
2. Front wheel turning in the air
Intentionally turning a front wheel in the air for a little added flare is admittedly pretty cool. Unintentionally turning your front wheel in the air is bad! Landing with a twisted wheel can end in disaster.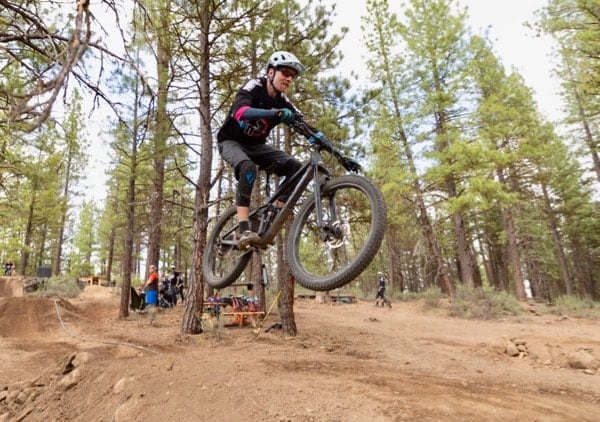 The Fix
When jumping, you should be guiding the bars up but not tugging. A turning front wheel happens what you are tugging on the bars and pulling more on one side than the other. Focus on guiding the bike and handlebars up, but not tugging.
3. Landing feels rough
What type of landing are you on – descending or flat? If you are working on a descending landing, you should be landing front wheel first. If you are instead landing rear wheel first, the front of the bike is likely to pivot forward and slam to the ground, thus trusting your weight abruptly forward and potentially over the front of the bike.
If your landing is flat, land with your rear wheel first. Landing on flat surfaces is more abrupt and landing rear wheel first allows you to use your legs to absorb the majority of the landing force.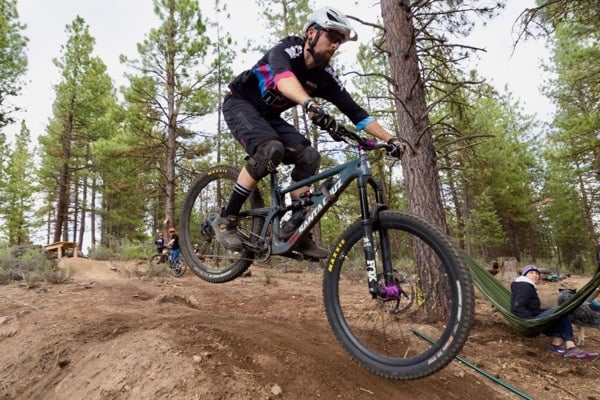 The Fix
No matter what type of landing you are working on, remember to use the "free" compression in your legs. Don't be stiff!
Practice what it feels like to land "light as a feather". Stand on flat ground (without your bike) and pretend someone is dangling a $100 bill over your head. Now jump up and reach for the bill – note the sound your feet make when you come back down to the ground. Now do the same thing again but this time, specifically focus on trying to make zero noise when you land. Notice the difference? On the second jump, you used your legs as suspension and gracefully soaked up the impact. You want to do this exact same thing when landing a jump.
4. Not clearing the table
Don't go blaming your speed or suspension just yet. Start by taking a good hard look at your compression.
The biggest mistakes we see riders make when trying to jump is the lack of compression on the take-off (face) of the jump. If you don't compress, your bike will behave very similarly to a rock. Gravity will get the best of you (and your bike) and you will promptly get pulled back down to earth a la Newton's apple. Compression is merely the action of stomping your feet quickly and then allowing the bike to come up under you. So stomp down on those pedals like you mean it. Get aggressive. Grrrr!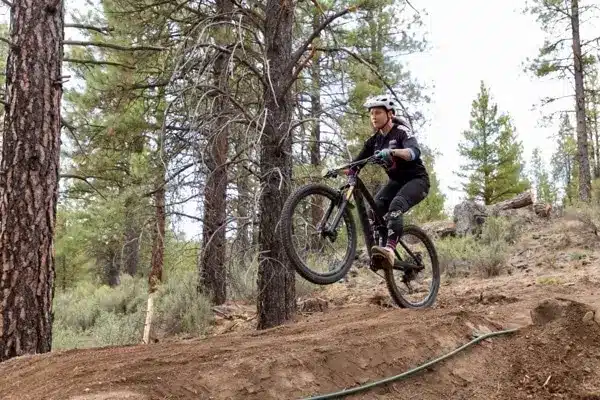 The Fix
Start your troubleshooting by focusing specifically on adding a bigger compression and using that momentum, to help you clear that table. Once you've got that figured out, you can play around with adding a little speed (and adjust the necessary compression accordingly). It's a fine balancing act!
5. Overshooting the landing
Chances are, you're letting the bike determine where it wants to go instead of you telling the bike where you want it to go. You're the boss!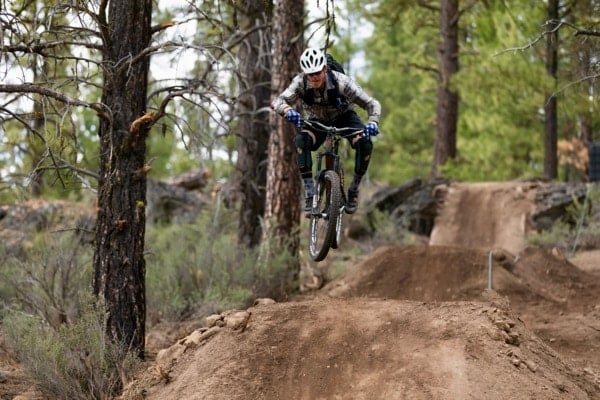 The Fix
Where you land is up to you — jumping and hoping you land in the right spot is a risky proposition. When you're in the air, LOOK down and spot your landing. Assuming you are on a descending landing, tell that front wheel where you want it to go by extending your arms and PUSHING your front wheel down towards your desired landing spot.
To practice, set a leaf (or something highly visible) on the jump landing where you want your front wheel to land. Ride the jump, look for that leaf, and PUSH the front of your bike down aiming to hit the leaf with your front wheel. Move the leaf around to a few different landing spots to practice hitting your target.
If this doesn't solve the issue then slow down your speed a bit, you speed demon you!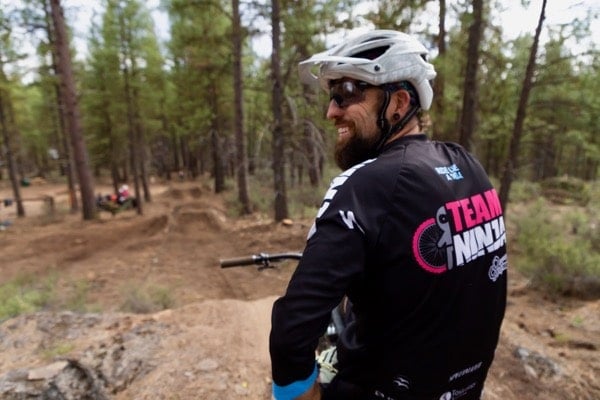 Now that you have the tools to troubleshoot the most common jumping mistakes, you can take the next step toward conducting a beautiful symphony in the air.
If you'd like to learn more, practice jumping in a safe, controlled environment and get real-time feedback, join us for a Jumping Fundamentals Mini-clinic!