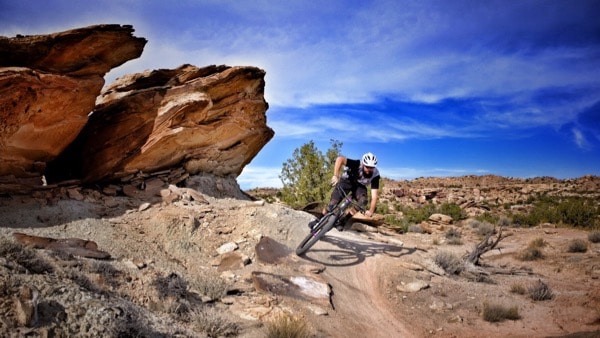 There's a little town in the Utah desert that holds a special place in my heart, calling me to shred like some sort of religious pilgrimage. Behold: Moab, Utah. The red rock walls and the extra-terrestrial landscape of the trails will blow you away and cleanse your soul. Join Ninja for a riding adventure as we dial in our skills at this world class destination on the Colorado River. Here's what you have to look forward to….
Skills At Work
Moab riding can get pretty rowdy, but with lots of riding areas of varying difficulty, you'll be able to ride at your own pace. If you are new to the area, I recommend starting with the Moab Brand Trails or Klondike Bluffs before stepping up to Navajo Rocks or the Mag 7 riding areas. You'll want to have your ready position dialed for everything these trails throw at you! There will be slabs, roots, rocks, ledges, and lots of opportunities to practice cornering. Moab is a great place to gain confidence in the both steep transitions and drops, as there are endless ledges of varying sizes. And don't worry, your certified instructors will cover all of these skills in your 2-Day Ninja Clinic.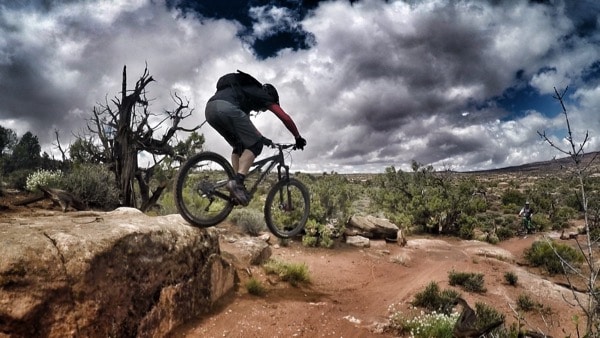 Line selection is one of our favorite things to teach in places like Moab. With the dynamic surfaces and features, there's often several options that vary from smooth and fast to rowdy technical. As you learn more ways to tackle obstacles, you'll truly appreciate the variety that Moab offers. Remember to keep those eyes up and read the trail ahead so you don't got caught off-guard!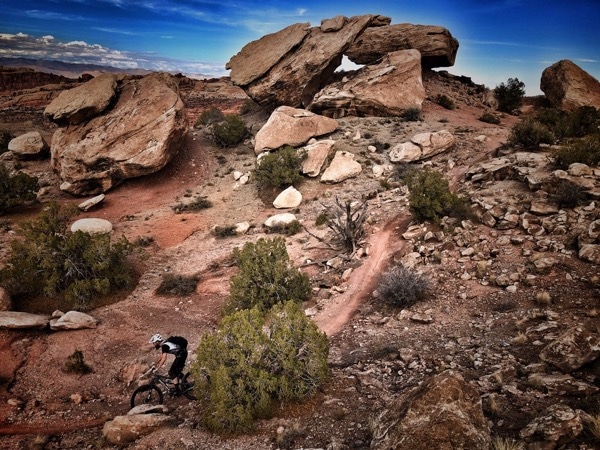 Finding Your Flavor
The majority of Moab trails are known as "stacked loop" systems. This means they'll be set up in a series of mini loops kind of like warped clover leaves where they return to familiar spots and link back together. Even with good trail signage, you'll want to have the Trailforks app ready (tip: download the Utah trails in advance). Always pack a spare tube, plenty of water and snacks, as well as first aid essentials. It's much better to be prepared in case you are unexpectedly out longer than planned, or maybe you are just having so much fun you add an extra loop to the ride?
Each trail area has it's own flavor that's worth exploring. Surely you've heard of the famous Slickrock Trail, which has the largest dedicated trailhead parking lot in the nation. Our advice: just do the shorter practice loop at Slickrock, get some cool pictures, and then go to another area to get your shred on. There are a ton of trails that are easy to ride from town or the Lions parking area along the bike path, including one named Sidewinder that I'll never forget! If you find yourself up on the mesa in the Mag 7 area, I love the loop that can be made by riding up Getaway and down Bull Run. The views are amazing and the riding itself is fantastic!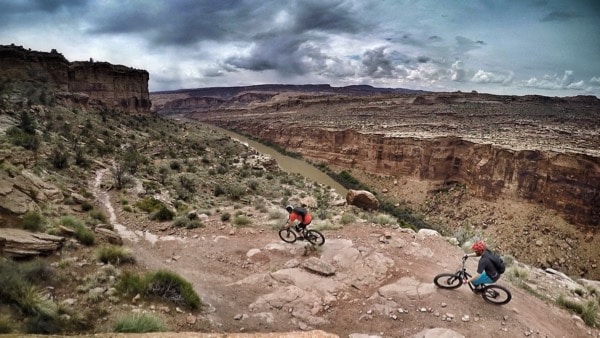 The "Epic(s)"
For the more adventurous intermediate to advanced riders, I suggest my favorite all-day adventure: a shuttle on the The Whole Enchilada. The season (and higher elevation snow levels) dictate exactly how far up you can shuttle, but riding any portion of this trail will prove to be one of the most iconic and memorable rides ever. Choose a comfy modern shuttle through the bike shops or get weird on a stretch VW bus experience with Coyote Shuttle. They'll take you as high as they can, then it's all (mostly) downhill from there to the river where you can park your car or pedal back into town. Do your homework and prep for a big day on this one. Bring layers as it's typically cool at the start of the ride and gets warmer as you roll down towards town.
Bonus Epic: If you're feeling particularly savage on your trip to Moab, check out Captain Ahab. It's a glorious piece of trail art that will gladly dish up a serving of humble pie if you're not respectful!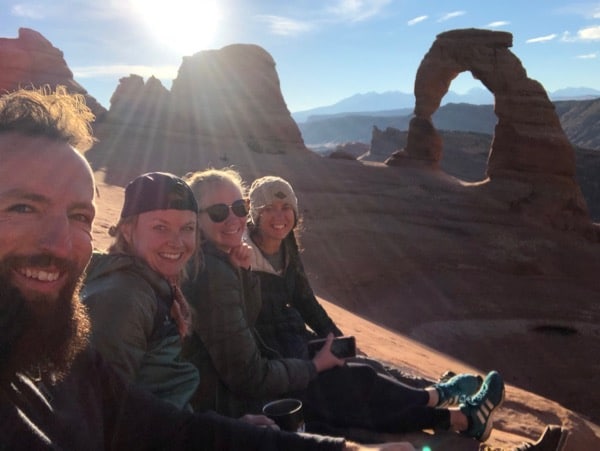 Off-Bike Adventures
You can find plenty of entertainment once you're worn out from riding in Moab. The river tours are a great way to see the canyon walls, and Arches National Park is just up the street (no mountain biking in the park – bring your walking shoes). If you enjoy hiking, I recommend checking out the Devil's Garden route inside Arches.
Filling Stations
There's no shortage of quality meals in Moab. Eklectica Cafe and Love Muffin Cafe are both "musts" for breakfast and to-go lunches. Grab your afternoon snacks from Sweet Cravings and ice cream at Moab Garage Company. When happy hour and dinnertime rolls around, Moab Brewery serves up great food in a memorable setting. There's great coffee everywhere, so make sure you always get a top off!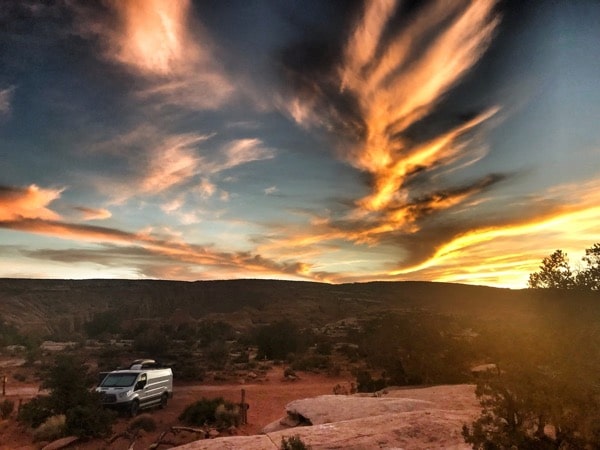 Camping Pro Tips
If you're driving in from the east, don't go all the way down the highway to 191. Instead, drop down to 128 and follow it along one of the most beautiful canyon roads you will ever see! As you get closer to town, you'll start to see some campsites along the banks. These are BLM managed sites that have pay stations and only cost $10-$15 per night. You'll need a check or cash if this is where you stay. If you want to camp for free, you'll have to go north of town to Willow Springs Rd and find some dispersed camping.
Talk to the Experts
Be sure to drop by Chile Pepper Bike Shop or Poison Spider Bicycles to gather trail beta and line up shuttles. They both maintain a fantastic inventory of rental bikes and will surely have a shirt or hat that you can't live without! And of course, join a Ninja clinic taught by a Certified Instructor to make sure you have all the necessary riding skills to tackle Moab's terrain.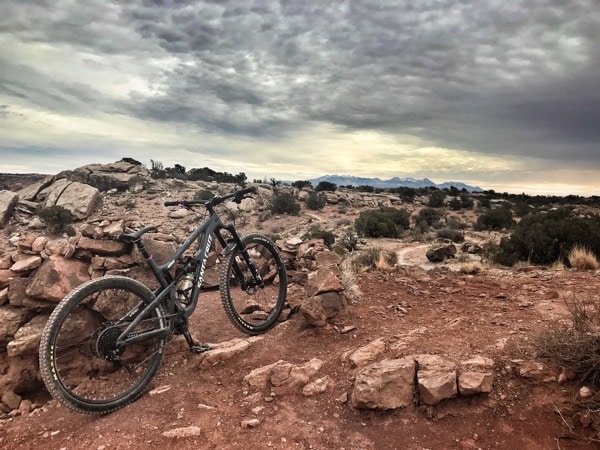 Chances are you've heard of Moab – I'm just here to remind you of the cannot-miss-epic-ness of this recreational destination. If you haven't already made the pilgrimage, I urge you, there is no time like the present! And if you have ridden the area before, chances are, there are a few trails you haven't checked off the bucket list just yet. Better get another trip on the books… check out our Upcoming Events!