We're heading back for another taste of the region's distinct singletrack. Join us we partner with local shop Landis Cyclery to offer skills clinics at every level.
We'll be riding at the famous Papago Park — home to beautiful sandstone buttes and listed on the National Register of Historic Places. This venue has features that make it perfect for practicing skills, and you'll have plenty of photo opportunities too.
Join us and learn to Ride Like a Ninja. You'll soon conquer your fears on the drops and switchbacks, unlock free speed in the corners and boogie up any climb the trail throws at you. We'll teach you how to brake effectively, how to perfect your footwork and demonstrate just how much your body position can affect your ride.
Following your clinic, you will see an immediate improvement in your riding and a boost in confidence. You'll understand how changes in your body position, footwork and where you are looking affect the way your bike behaves. You'll be able to tackle steeper terrain, corner with control and negotiate trail obstacles with ease. And Landis Cyclery will be ready to help with any mechanical support, accessories, parts or anything else you may need for your mountain bike.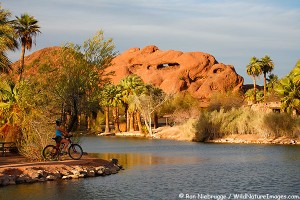 Here's what you need to know:
Clinics will be held on January 31 and February 1, 2015
We'll be meeting at

Papago Park
625 Galvin Bikeway,
Phoenix, AZ 85008

Clinics range from $149 to $289 (depending on which class and how soon your register)
We're also going to be doing our Saturday Night Social at Landis Cyclery!  It's free, very educationing and a ton of fun.  Snacks and drinks provided by Landis Cyclery.  Find out all about it here.
Click HERE to register for this or any other upcoming clinic, or to find out more. The crews at Landis Cyclery and Ninja Mountain Bike Skills can't wait to see you there!