At the beginning of every Ninja Mountain Bike Skills clinic, we talk about ways to improve your riding by improving the positioning and adjustment of your shifters, brakes, suspension, saddle and more.   To really dial in your cockpit, with your rider specific settings, can easily require more time then is available during the clinics.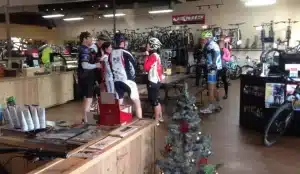 That's why we're excited to announce that for our upcoming clinic weekend in Arizona, we're adding a Saturday night social at Landis Cyclery. Join us after class (or evening before class if you're taking a Sunday clinic) for some yummy refreshments and we'll educate you as to where your brake levers should be for the best reach and control, how to set up your shifters optimally, how set your your suspension correctly for your riding style and weight and other important fit components to make sure everything is running smoothly so that all you have to do is Ride Like A Ninja.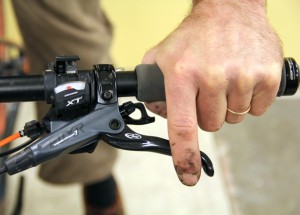 This is a free event for everyone that participates in one of our clinics.  It's a great chance to get really comfortable in your cockpit but also to meet other riders from your area, check out these amazing local shops and swap some stories from the trail.
We'd love to see you there!
PS – if you have a friend or family member you think might also benefit from some cockpit tune-age, bring them by.  Food, drinks and socializing are free for everyone.
 Phoenix Clinics – Hosted by Landis Cyclery
Where: Landis Cyclery (2180 E Southern Ave, AZ 85282)
When: January 31, 2015 at 6:00pm
Cost:  FREE for clinic participants