05nov2:00 pm7:00 pm Team Ninja Year End PartySan Diego, California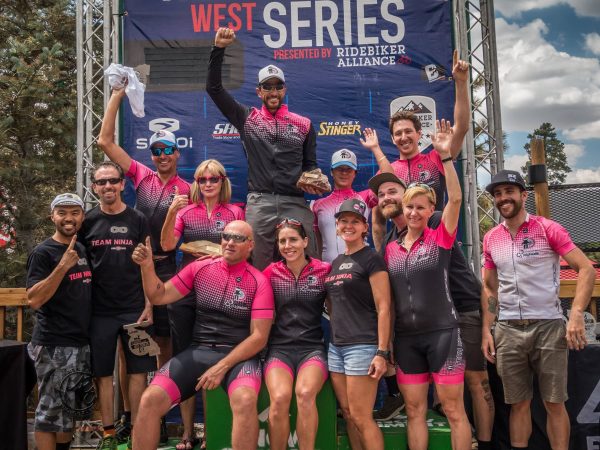 Event Details
It's Party Time!!
Join us for the annual Team Ninja Party!
Sunday November 5 | 2pm – 7pm
We'd love for you to come join us at our official Team Ninja 2017 Year-End Season Party. We'll be reliving the glory days of this past year (like our team race results, our community outreach projects, and more), having an awards ceremony to laud those Ninjas that went the extra mile (some of them quite literally), thanking our sponsors and talking about our plans for next year.
In addition to reviewing our member benefits such as free coached workouts, free attendance to skills clinics, free team mountain bike camp in Big Bear, Sedona and Laguna Mountain, support at races, great sponsor and grassroots deals, etc, we'll also be revealing our new 2018 sponsors!
Ninja's spoke and we (the party planners) listened!   In a leap well beyond the usual drinking and eating, we're proud to introduce the inaugural,  Ninja Olympics!  Will you be the slow race champion, the best bunny hopper, how about the one who can crank the fastest on one leg, the one who gets the biggest air, the one who can track stand the longest?
Join us in some friendly competition at Morley field to find out … the events are sure to not disappoint.  Spectators welcome!
After lots of laughs, and a little sweat, we will ride over to the event venue (the San Diego Automotive Museum) to commence in the eating and drinking portion of the night. We will have delicious (mostly) nutritious food taken care of.  Don't worry, there will be vegetarian and gluten free options for those with special dietary needs.
Please park near the San Diego Automotive museum and ride over to the large fountain in Balboa Park, Team photo at 2:15 sharp.  We will be progressing to Ninja Olympics and back to venue as a group!
Team Photo
Join your teamies for the Team photo of all Team photos!  Everyone wear your Ninja gear for a photo on / in / around the fountain at Balboa Park.   Be there by 2:15pm at the latest — we want you in the photo!
Free Ninja T-Shirts
Free T-shirt for all 2017 Team Ninja members and all new 2018 members!
Free Ninja Trucker Hat
Free Ninja Trucker Hats for the first 20 people to join / renew their membership for 2018 (will be shipped with your jersey / clothing order)!
Unveiling the 2018 Team Ninja Kits
We'll be unveiling the new Tam Ninja kits!  ZOCA will be there with sample-size kits. We STRONGLY recommend you try on your team gear to make sure you get the correct size.
So come on out and ride, eat, drink, be merry, and talk about bikes with us. Bring your spouse/boyfriend/girlfriend/"special friend"/lover, kids… All are welcome. Seriously
You must RSVP for the party below …
more
Time

(Sunday) 2:00 pm - 7:00 pm
x
Join Wait List
Email address field is empty or not valid