By Joanna Yates / @joannajyates
Have you ever wanted to ride your bike for a living? Have you considered becoming a certified mountain bike instructor? If yes…keep reading! In this article, we asked a Professional Mountain Bike Coach (And Ninja!) Joanna Yates to share her top 6 Steps to becoming a mountain bike instructor.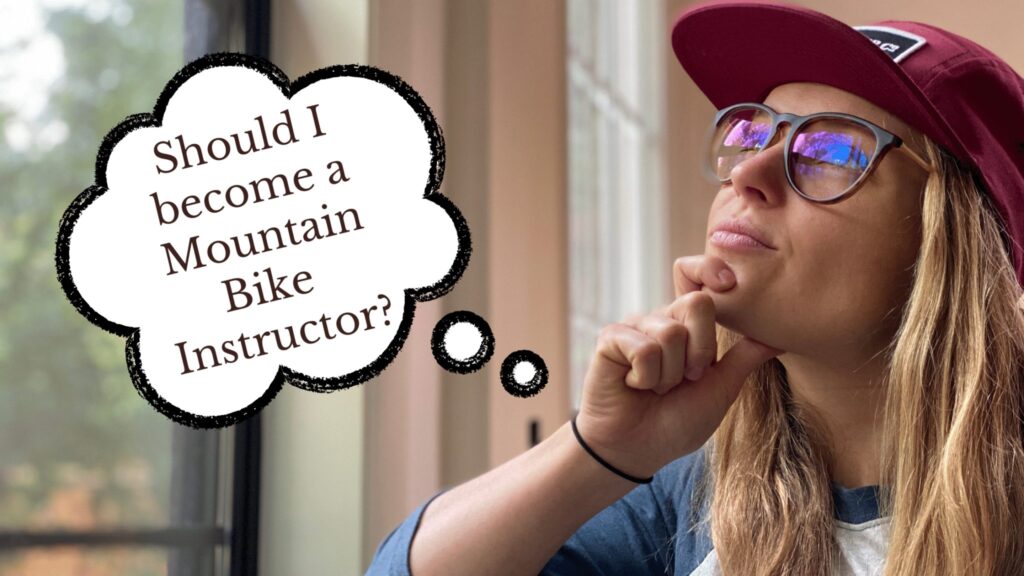 1.) Know Your "Why"
To become a professional mountain bike instructor, you'll need to get a certification. But before you sign up for an instructor certification course, it's important to know your "WHY." Ask yourself: why do you want to take this path? Is it to make some extra money? Improve your own riding? Help others? Maybe it's all of the above.
Regardless of your motivation, get clear on your "Why." Becoming a successful skills instructor takes time and requires a lifelong learning mindset. During the process, when you have days that don't go as planned (and you will) your "Why" is your reference point. This will keep you grounded and act as fuel to keep you moving forward as an instructor.
After defining your "Why" it's time to get clear on the "How." The next 5 steps are all about the "How".
2.) Get Coaching (Invest in your riding)
If you've never had coaching, even if you consider yourself a skilled rider, it's a good idea to attend a weekend clinic or book a private lesson to get more hands-on experience. Remember, being able to "do" a skill is one thing. Being able to teach the skill is another! This is your "homework," and is an integral part to your success as an instructor. Seek out good coaching on your personal riding BEFORE you become an instructor.
This is a great opportunity to ask questions, get curious, and put yourself in the shoes of future clients. If you want people to invest in your future endeavors you must invest in yourself first. Plus, this will help you analyze the strengths and weaknesses of your present skills giving you more information to guide your decision-making.
Remember, you can only teach what you possess so this step is an absolute necessity. By doing this you learn from someone who is ultimately doing what you want to do, a win-win!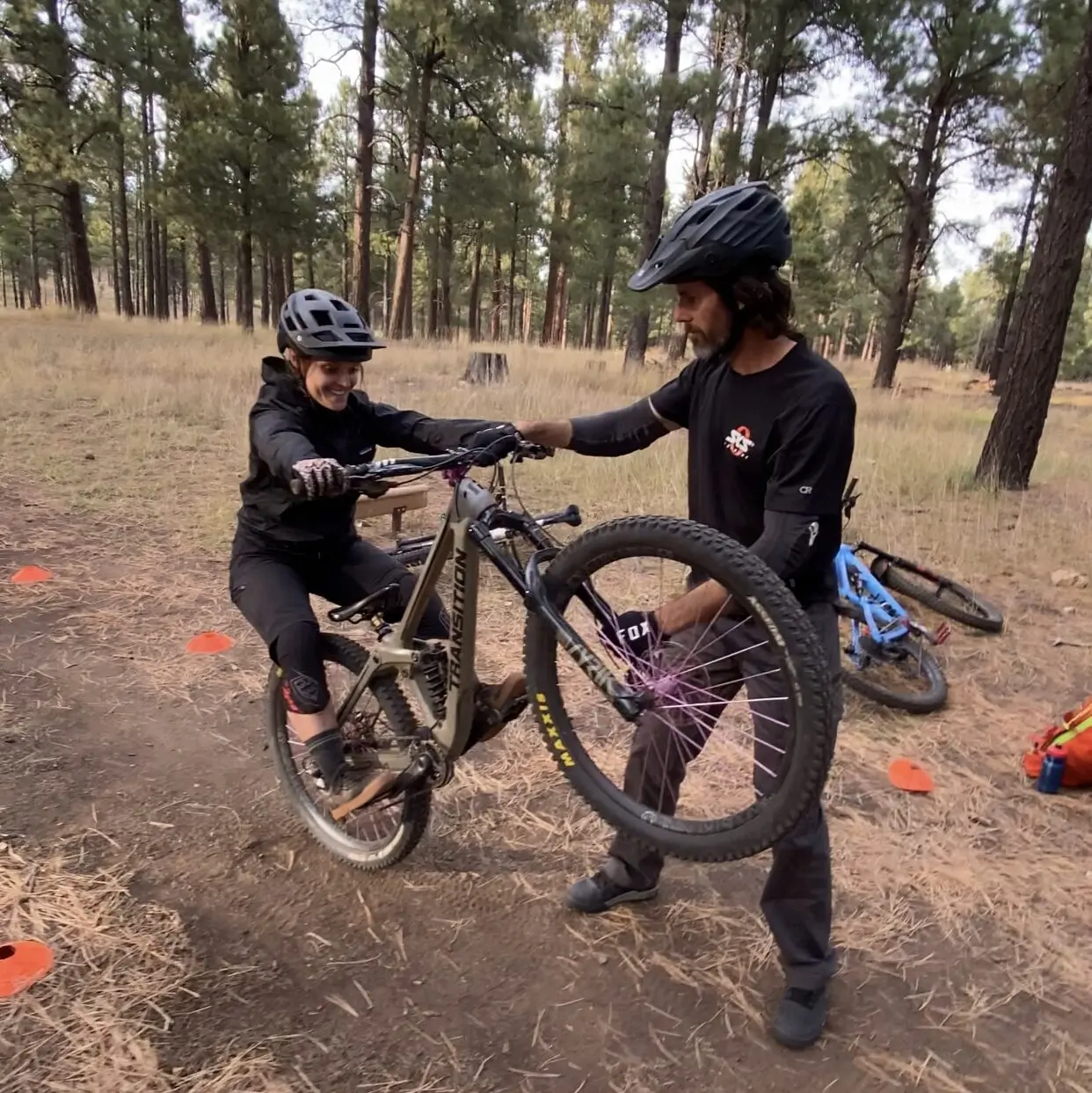 3.) Shadow a lesson (Volunteer)
It's important to learn as much as you can before you ever sign up for an instructor training course. Shadowing a lesson is a great way to do this! This allows you to see instruction from a coaches point of view without the pressure of being the coach. If you can't shadow a lesson, then look for opportunities to volunteer for weekend clinics, group rides, or kids programs. There are plenty of companies who need help getting more people on bikes. Keep in mind that when you are shadowing, you are there to observe, soak up information and learn from the instructors!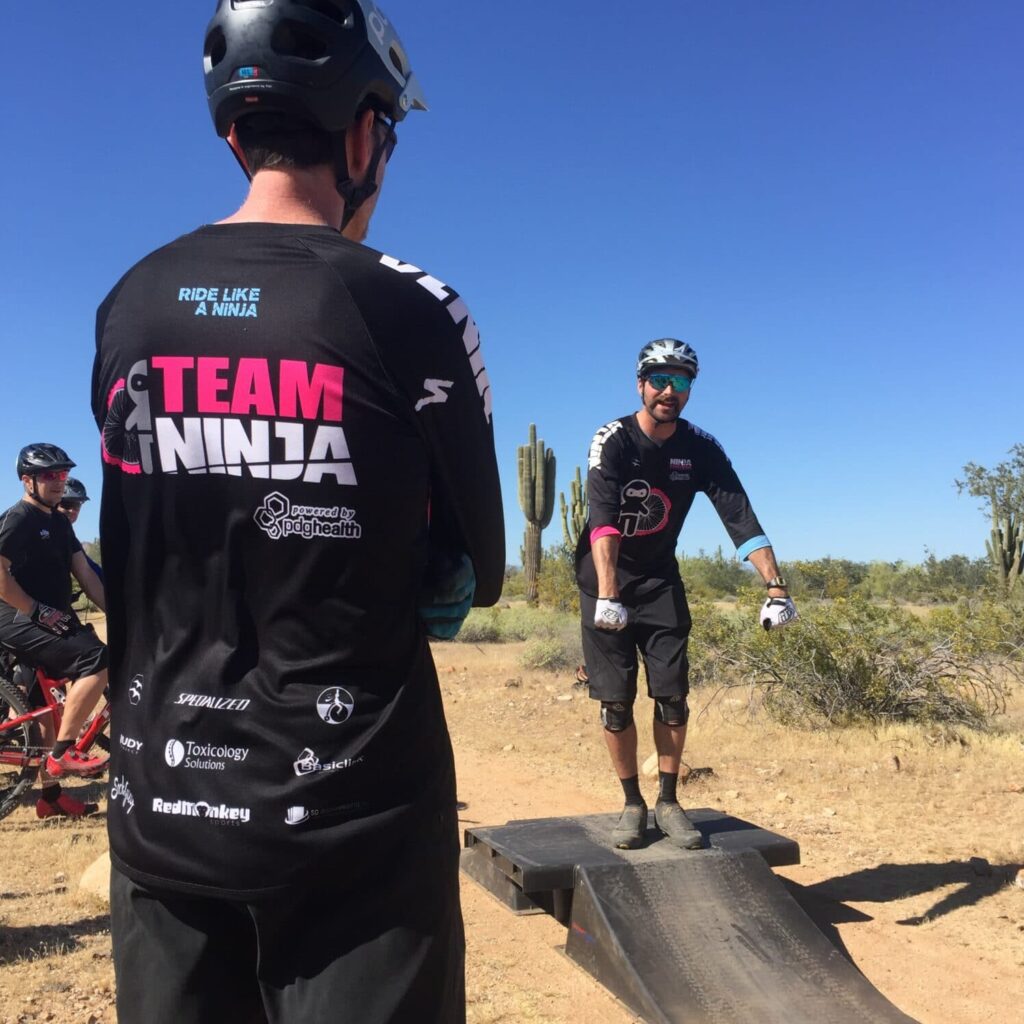 4.) Get Educated / First Aid
Safety first! A very important part of becoming a certified mountain bike instructor is understanding that the safety of your client(s) depends on YOU! This means progressing them at a safe rate and always being prepared when accidents happen.
At the minimum, you should have a First Aid and CPR certification; however, some companies require you to have a Wilderness First Aid or Wilderness First Responder certification. When it comes to your clients safety it's better to be over prepared than under prepared: "Hope for the best but prepare for the worst."
Along with First Aid it's a good idea to learn basic mountain bike mechanic skills. This ensures you are prepared when someone gets a flat tire, breaks a chain, or bends a derailleur. If you want to learn more about the ins and outs of bike mechanics you can attend an Introduction to Bicycle Maintenance at the United Bicycle Institute.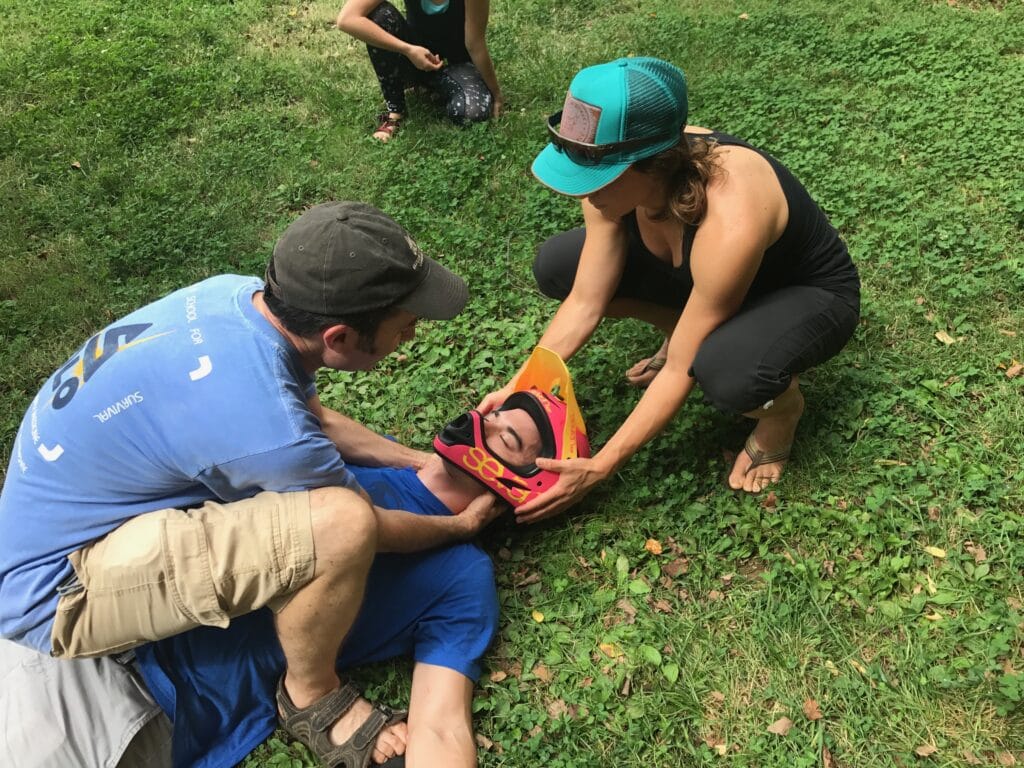 5.) Get a Certification
Okay, finally! Let's get into our Instructor Training! There are two different instructor certifications to choose from: Bicycle Instructor Certification Program (BICP) and the Professional Mountain Bike Instructor Assn (PMBIA). Each certification program has different levels. Each program starts with a Level 1 Instructor Certification. No matter which certification you choose, you'll learn how to teach specific skills needed to be a successful instructor, as well as practice teaching to a group in an outside "classroom" setting.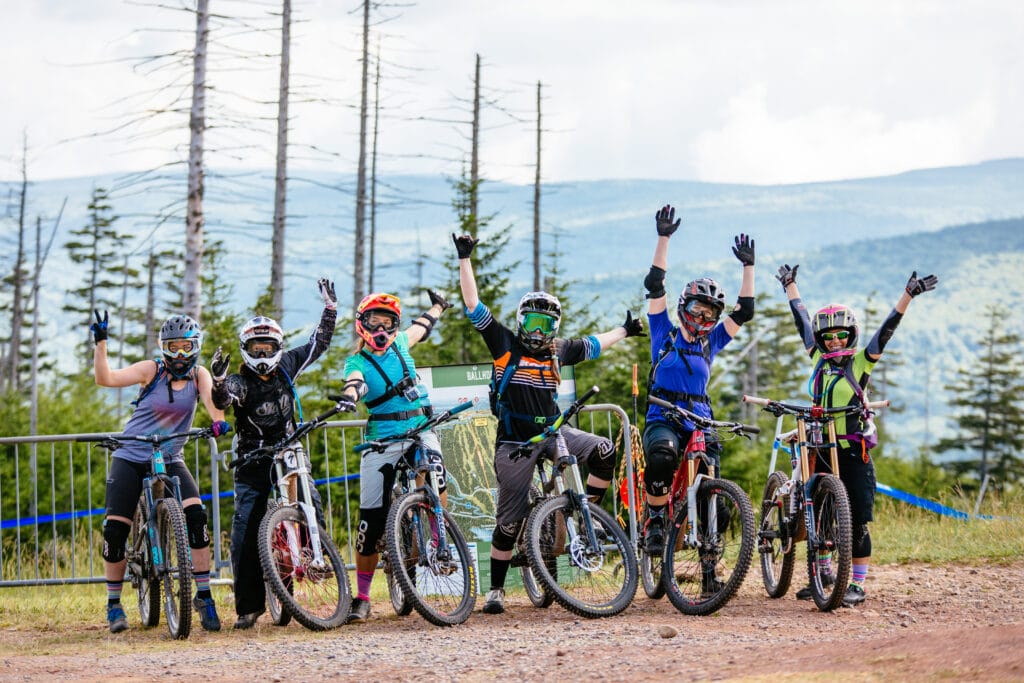 6.) Get Experience
While it's great to get a certification and learn how to teach certain skills, nothing compares to experience. Once you are certified and ready to start getting experience, it's a good idea to look for assistant roles until you can work your way up to a lead instructor. In an assistant role, you are able to learn from more experienced coaches and perhaps most importantly, assisting gives you the chance to watching students and identifying mistakes and/or opportunities for improvement. The ability to give helpful, accurate feedback is a skill that develops over time and with experience!
Ninja Mountain Bike Performance is a great place to start! With Ninja, you gain a ton of knowledge by working with different instructors and Ninja is currently hiring certified instructors all across the country for both Lead and Assistant positions.
To become a better instructor you'll have to put in the teaching reps. Mirror your own mountain bike skills: if you want to get better on the bike you have to practice!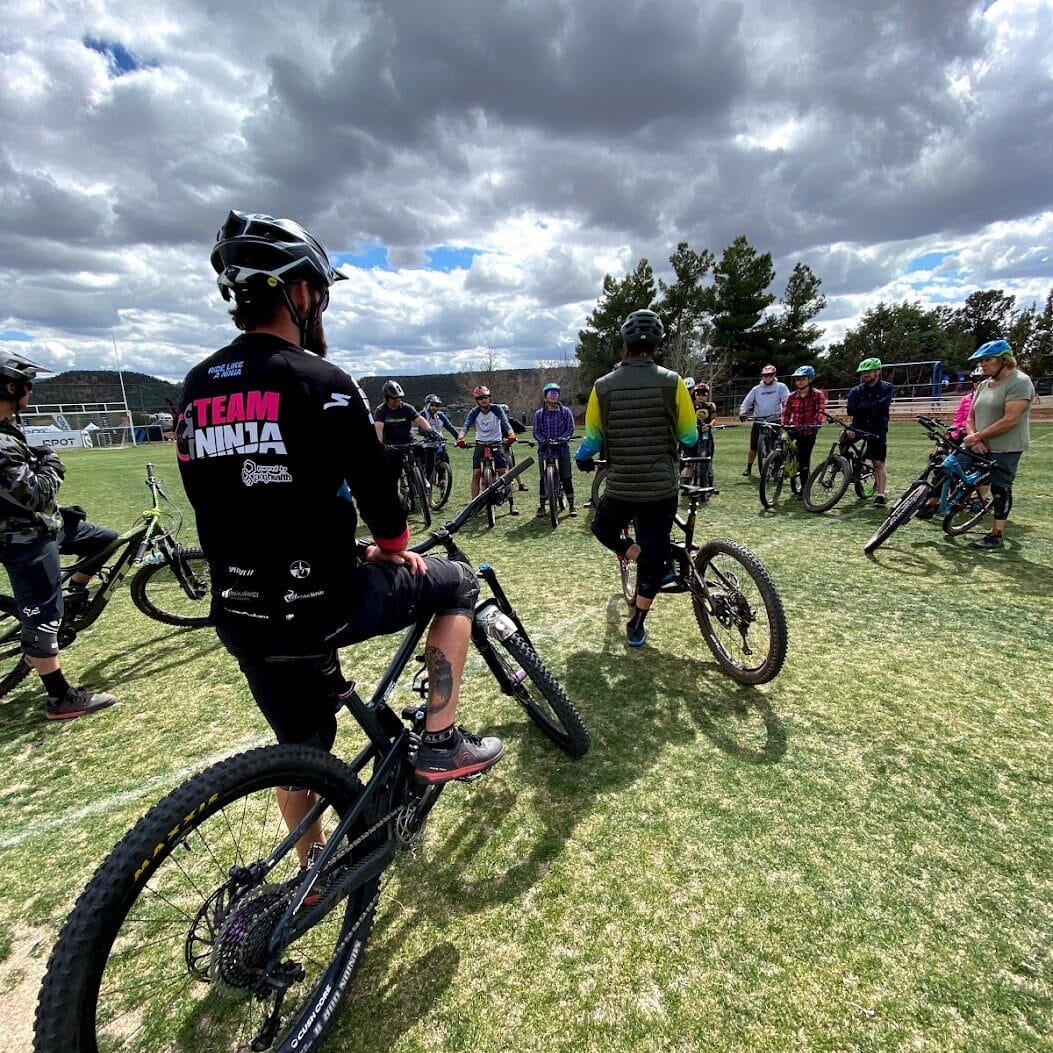 BONUS – Continue to Learn
The best coaches and instructors are the ones who continue to learn and look for feedback and improvement. This includes feedback from peers, mentors, and clients. No one "knows it all" and there is always something new to learn in the mountain bike world. Keep this mindset as you move forward and you will see success!
The instructors who seek out feedback are often the ones who succeed the most and help their clients achieve the best results. It's important to drop your ego when coaching and remember: it's not about you and your skills; it's about helping the client succeed!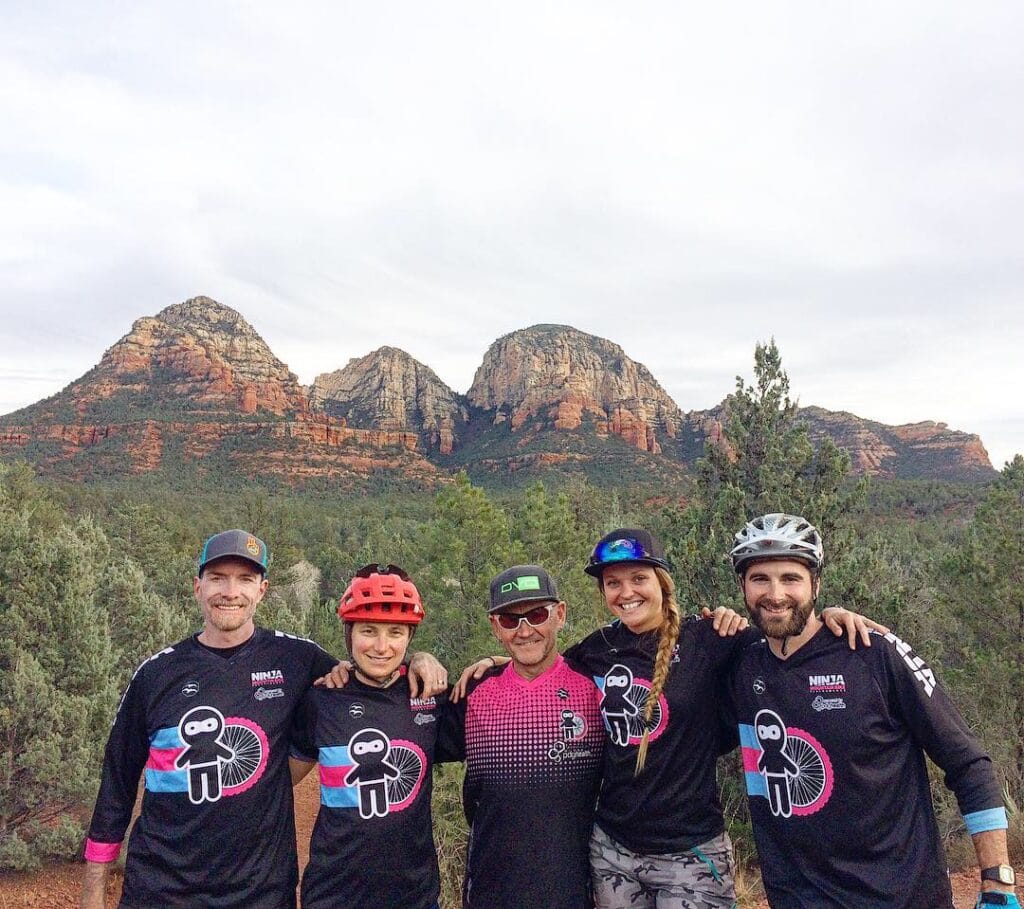 Everyone has different goals and motivations for becoming a mountain bike instructor. It's important to remember being a mountain bike instructor takes patience and commitment. Whether you are looking to make a career change or if you just want to be a weekend warrior coach, find companies that support your growth as an instructor.
Working for Ninja Mountain Bike Performance has helped me improve my coaching skills and become a better rider. Not only does working for Ninja help you gain experience, it also helps you build community and friendships while doing what you love! The fun learning environment that is created in each skills clinic and lesson takes the anxiety and pressure off of self-doubt and ego.
As an instructor, I am incredibly grateful for the opportunity to work with Ninja and appreciate their ongoing growth mindset when it comes to mountain bike skills. In my opinion, they are unparalleled in their efforts to get more educated, fun, and excited instructors on the trails. For more information on becoming a Ninja Instructor, go to ridelikeaninja.com/were_hiring/.