By Jeremiah "Scratch" Stone
Have you been feeling stronger on the bike, doing your homework, and stepping up your skills? With great skills progression comes great responsibility…to keep yourself intact! So let's take a moment to do a quick inventory on your protective gear to make sure your equipment and body are progressing with your skills.
1. The Lid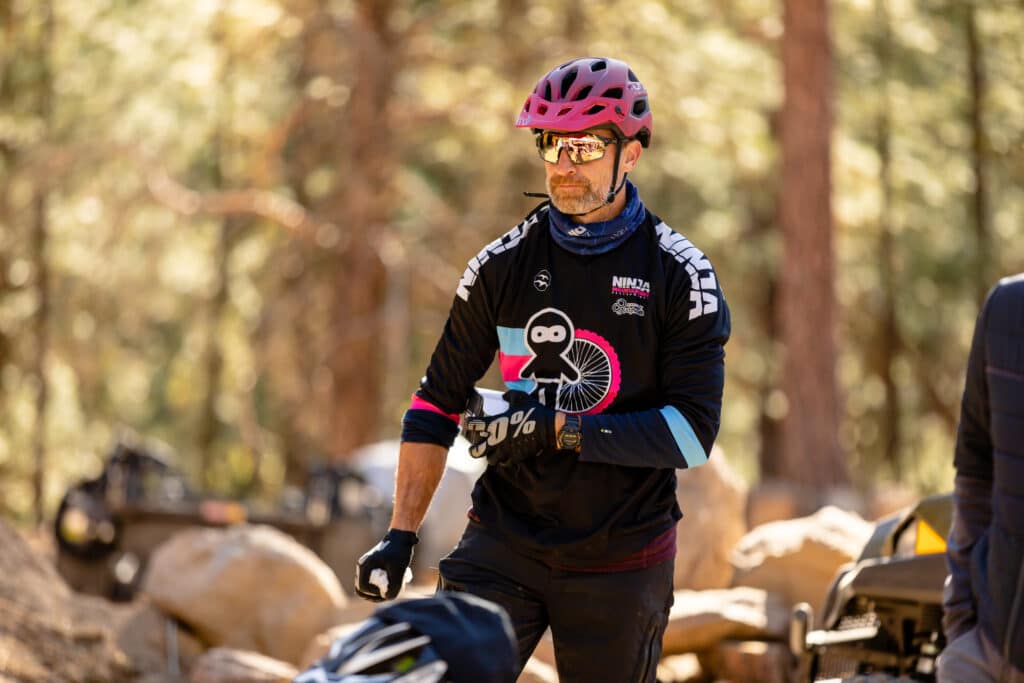 First off, check your helmet. Give it a good inspection for any cracks, dents, gouges, or signs of wear. How old is it? If it is more than three years, it may be time to replace it according to most manufacturers. If you've taken a hard hit to the helmet, even if it doesn't display any visible cracks, it's time for a new one. If you're starting to gravitate towards riding jumps and technical gnar or if you just want a little more facial protection, you may want to take a closer look at some of the amazing full face helmets available now. You'd be amazed at how comfortable a full face can be these days!
2. Eyeballs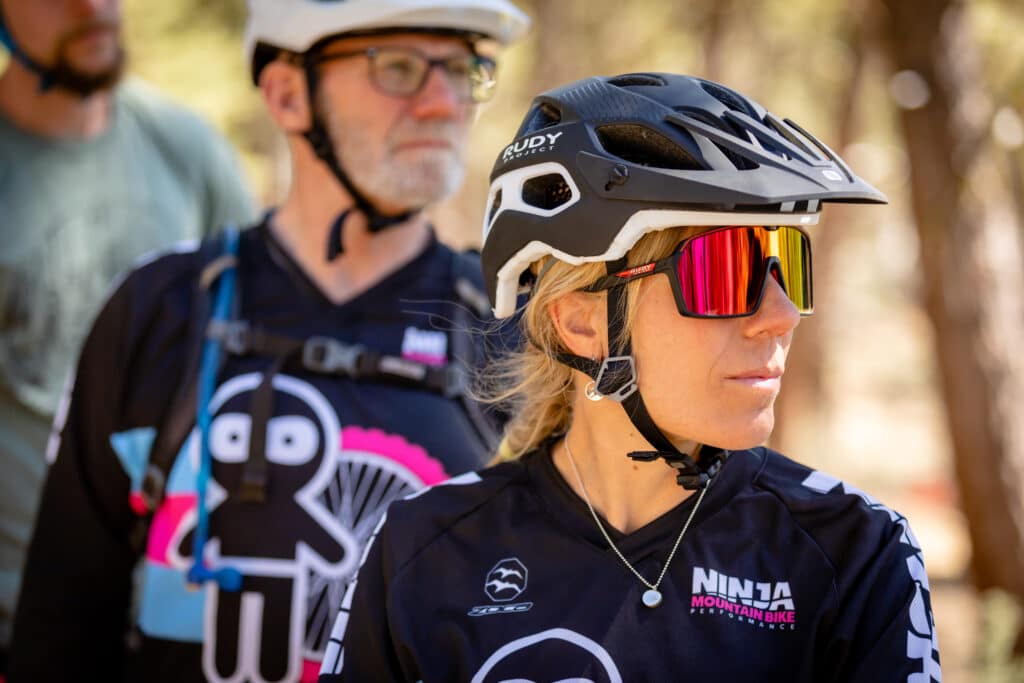 If the eyes are the window to our soul, let's keep them safe too. Stray branches, flying rocks, or even a bit of sand on a windy day can really take the fun out a ride. Invest in quality eyewear, and make it a habit to wear them every ride! If you are looking for good coverage, check out the Spinshield and Defender sunglasses from Rudy Project. These days, you can get glasses with prescription lenses or with photochromic lenses that adjust with the light so you don't have to stress about changing out lenses before every ride. Going full enduro? Get yourself some goggles! Pro-tip: If you attended a Ninja clinic, you received a Rudy Project discount code in your event follow-up email!
3. Armor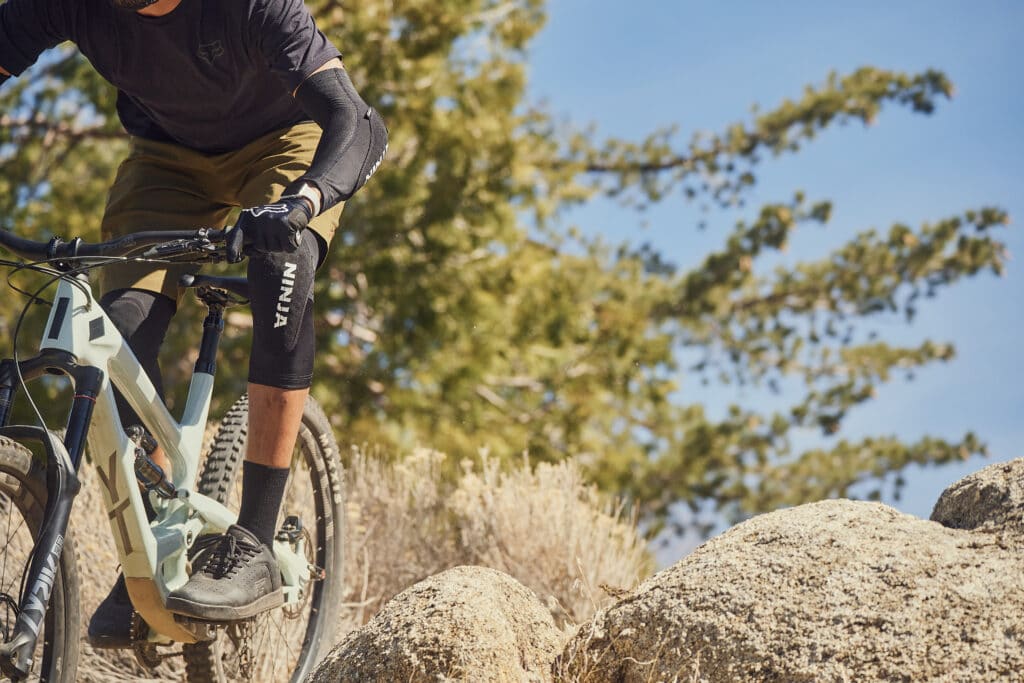 Next up, let's talk armor (padded protection). I'm a big believer in knee pads, and I know several people that swear by elbow pads as well. Think about your own riding, are you the King/Queen of flow trails or a seeker of rocky, technical gnar? In case it's been a few years since you've considered padding, know that most of the pads available now are far from bulky or clumsy. They offer a ton of protection without much downside. Keep in mind that the best knee pads are the comfy one that you'll actually wear! I prefer owning two sets: one for comfortable trail riding (something thinner and lighter that will help to prevent abrasions or scratches), and a heavier-duty pad with some quality thicker padding for when it's time to get rowdy.
Ninja recently launch a brand new line of mountain biking elbow and knee pads offering two different levels of protection – check out the full lineup! The Speed King pads are a low-profile, lightweight and breathable pad, perfect for your everyday riding. The Hooligan pads offer the next level of protection with a heavier duty (but still flexible) pad over the knee and added side protection. Hooligan pads are great for more rocky, exposed terrain or really anytime you want the boost of confidence that comes with knowing you have protection. As an added bonus, all of the Ninja knee and elbow pads have a removable pad insert which makes them machine washable. Hallelujah! No more stinky pads!
When selecting armor, you want to weigh the level of protection vs comfort factor, considering both range of motion and heat. Make sure you wear gear that allows you to move properly on the bike! You don't want to be out there all bundled up or boiling and unable to ride right, and you'll be far more likely to wear the protective gear if it is comfortable. After all, the armor won't do you any good sitting on a shelf in the garage!
4. Mind the Spine
The Enduro World Series and many other race organizations have started making spinal protection mandatory for competition. Watch videos of downhill racers, and you'll see everything from neck braces to moto inspired chest protectors. I am glad to see that idea grow throughout the sport – spinal protection is not just for pro downhill riders anymore. Even better news? More brands to take notice and putting new products on the market for all levels of riders. I love seeing developments in rider safety. Fox makes some great chest and back protectors, POC makes armor vests, and Evoc is now offering various hydration packs with built-in spinal armor.
5. Boost Your Strength & Flexibility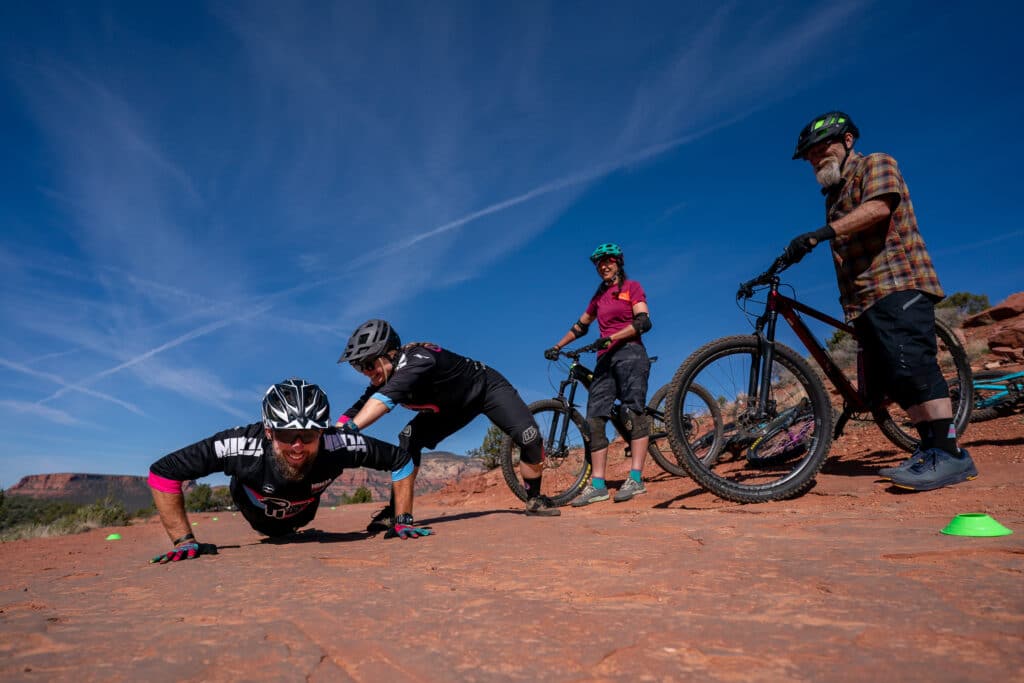 A body that cannot bend, is more likely to break. Want to prevent bike injuries? Build strength and flexibility! After all, an ounce of prevention is worth a pound of cure, right? You can get a ton of bang for your buck with a little bit of bike-focused resistance and strength training. Take a look at any MTB focused training plan and you will see a focus on both mobility and stretching. Get your body limber and feel the difference both on and off the bike. Here are 10 yoga moves for mountain bikers and 10 MTB-specific exercises you can do at home to get you started!
6. Gloves
A scratched knuckle or scrapped-up palm can make the difference between an A+ ride, and an uncomfortable pedal back to the parking lot. Gloves offer protection from both abrasion and those pesky stray branches that whip your hands as you bomb down the trail. Wearing MTB gloves eliminates issues caused by sweaty (slippery) hands on rubber grips, while also offering this added level of protection. There are endless gloves options these days ranging from super lightweight breathable gloves to insulated winter gloves, from full-finger padded to short-finger gloves. Most gloves are also touch screen compatible, making it easy to navigate the trail map on your phone or snap a photo. And similar to knee and elbow pads, the best gloves are the ones that fit you properly and are comfortable so you'll actually wear them.