By Jeremiah Stone
The days are cold and it's dark by 5pm. We're becoming one with the couch as cookie crumbs gather on our sweatpants, scrolling through Instagram and dreaming of riding, but staying inside because "EW, IT'S COLD!" Can you relate? Well it's time to snap out of it because with the proper gear and these Ninja tips, you can brave the winter weather and ride on!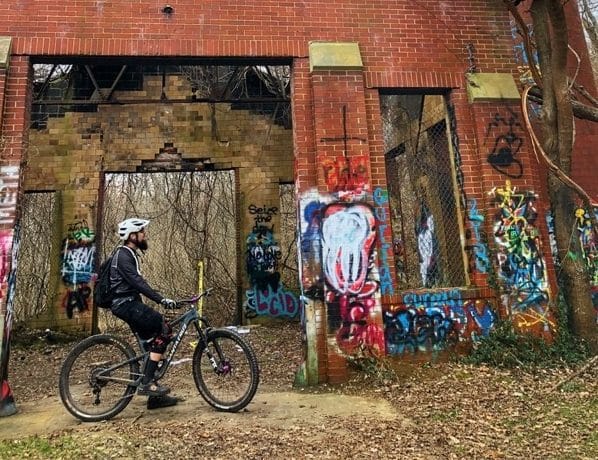 1. Get Your Mind Right
When expectations and reality don't line up, you get disappointment. Since the trails aren't optimal this time of year, shift your goals and focus on something other than that PR or KOM. Consider working on a skill you want to master, gathering your friends to take on the cold together, or simply being proud of yourself for getting your butt outside to do something you love even when the conditions aren't your favorite. Adjust your expectations by shortening the amount of time or mileage you would knock out in pristine weather so you don't finish your ride promising to never do that again.
2. No Bad Weather, Just Bad Gear
The right gear can mean the difference between a great day and pure misery. Let's start at the bottom with wool layers. It's the perfect material for cold weather with its quick-dry warming properties, plus it doesn't get stinky! Look for wool linings, base layers, headgear, and socks. For mid and outer layers, Windstopper fabrics protect you from the elements while preventing overheating and perspiration build-up by allowing moisture to escape. Isn't science grand?! Layering is the key to adapting to changing conditions and keeping your gear from getting too bulky. Top it all off with a quality piece for your noggin to maintain your heat! Consider a headband, cap, balaclava, or even helmet cover! Another thing to consider: invest in a bigger riding pack so you can easily adjust layers to stay comfortable. Pro Tip: Start your ride a little chilly so you're not burning up a mile in.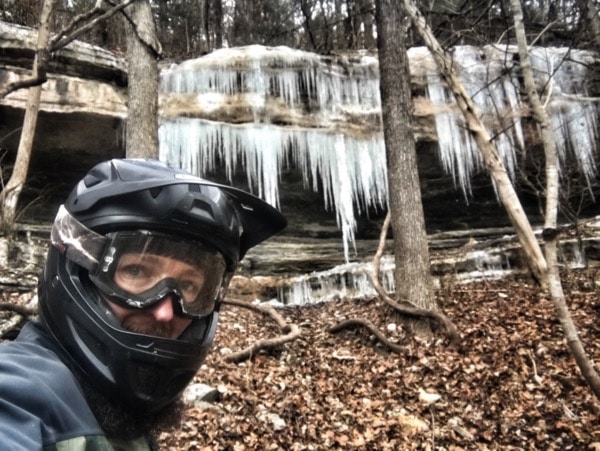 3. Frigid Digits
Cold fingers and toes are painful! Look for cold weather gloves that will last several seasons and keep you comfy. Glove liners can get the job done some days or you can go all the way warm with a set of bar mitts! As for toes, dedicated winter shoes or a set of shoe covers are best, or you can use good-ol' tape to close off toe vents off and ride in beefy hiking socks for added warmth.
4. Bike Love
Expect your brakes, suspension, and dropper post to act a little unenthusiastic when it's cold so it's important to store your bike inside and keep it clean! Mud seems to show up more when it's cold, so those seals and drivetrain could use extra love! Suspension fluid gets thick in the cold so open up the rebound to keep the bike more responsive. As for that dropper… good luck! They really like to get sluggish in the cold, so don't panic when it acts up. Tires will be stiffer and the ground less compliant so letting a little air out will help maintain traction.

5. Heat Up
We try our best to do this year around, but it's especially important when the temps dip. Build a stretching routine to get the body warm and nimble so you don't feel like the Tin Man creaking your way down the trail. Use the first bit of the ride to steadily get the blood pumping, your body will thank you.
6. Eat Up
Your body burns more calories in the cold and feeding it will avoid the drama of a bonk. Avoid the usual bars and gels because they get even harder to chew in the cold… it's all about that dark chocolate and almond butter this time of year! Pro Tip: keep the chocolate in an outside pocket to avoid melting and almond butter in an inside pocket so it stays mushy. Try running an insulated hose on your pack and make a warm drink like apple cider or coffee for the insulated bottle!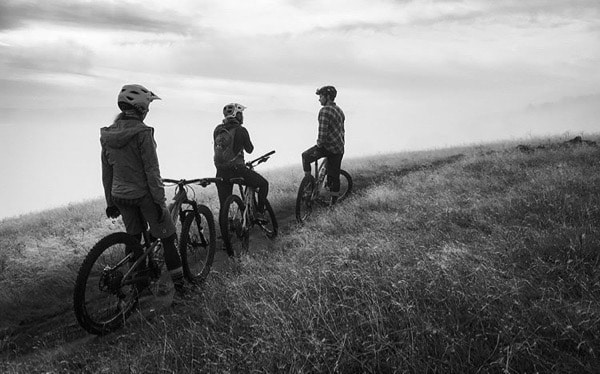 7. Plan Ahead
Odds are you're going to get out there and have a blast which means you'll ride longer and that early sunset will sneak up on you. Keep a blinky red tail light and a headlight to get you home safe. Plan to warm up afterwards by finishing your ride somewhere with a fireplace or hot shower and a warm drink to cap off another great day on the bike!
8. Diversify
Miss the intensity of charging hard? Take it to the gym and do some strength training or take an indoor trainer for a spin – it isn't the solo suffering it once was. Thanks to some great new cycling apps and equipment, you can have interactive and intense rides from the comfort of your own home! Is it "outside or bust" for you? Get off the beaten (single)track by exploring backroads on a gravel bike, reveling in the madness of cyclocross, or enjoying the versatility of a fat bike. Pro Tip: these cold weather gear and tips all apply!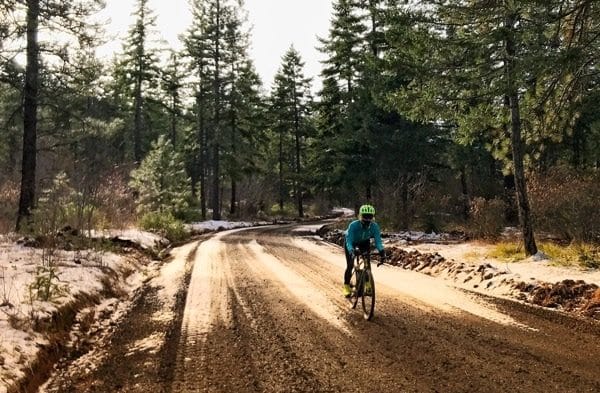 Don't let the cold stop you! With today's gear and a good attitude, we have the ability to ride through the winter and keep the good times rolling. Now get out there and make some memories!