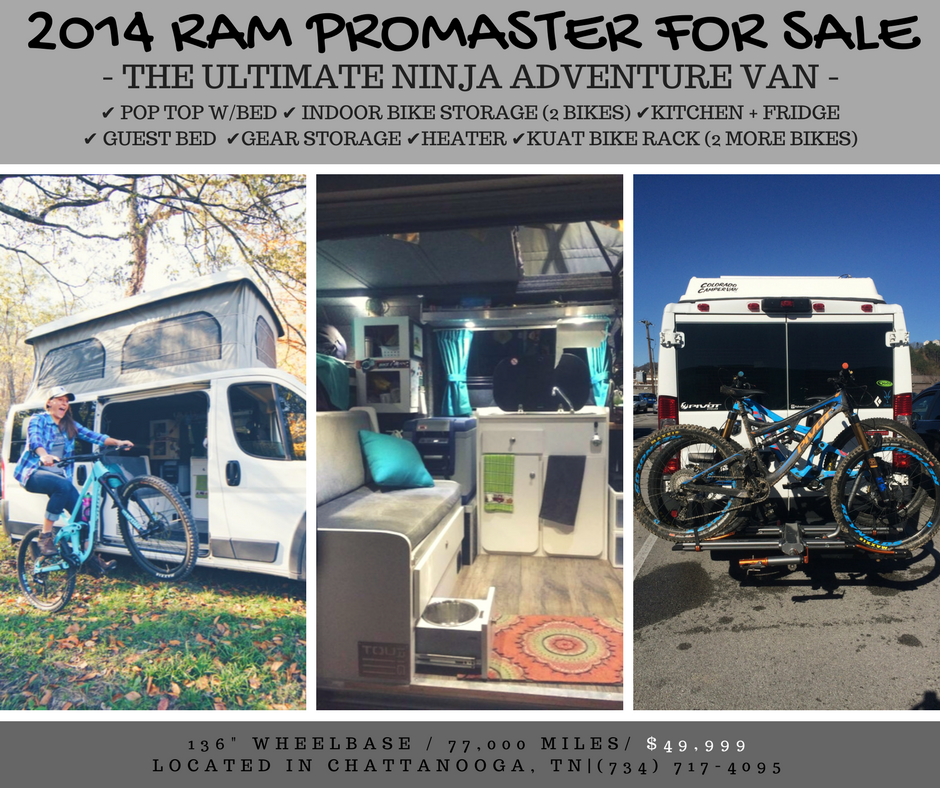 Ninja Instructor Hannah Levine is selling her super rad camper van.  This van has been designed to maximize space and functionality. Lots of storage for your all your gear and clothes. Ideal for anyone looking to travel with bikes and dogs! Fits in a normal parking space; easy to drive and maneuver.
The perfect Ninja Adventure Rig! Save yourself from having to wait 6-12 months to get into a van build shop. No need to wait. Start your adventure NOW!  Interested?  Shoot her an email at [email protected].
2014 Ram ProMaster with pop-top for sale @ $49,999.  For a FULL tour of everything you could ever need to know about this van, check out the full van tour on YouTube:
FAVORITE FEATURES:
– 2 BEDS / Extra large pop-top bed and a slightly smaller lower bed makes it easy to invite friends along for the journey
– POP-TOP / The pop-top gives you an entirely separate room in your van! Offers privacy, tons of space, a large comfy bed, extra storage room, 360 degree views and great ventilation/airflow. With the pop-top you don't feel like you are sleeping in a van, you feel like you are camping (but 100x more comfortable). 
– KITCHEN / DOUBLE BURNER STOVE, SINK, pullout TRASH and RECYCLING and STORAGE for a full set of dishes/pots/pans.
– Propex HEATER will keep you toasty warm even on the coldest nights!
– The van is 100% SELF CONTAINED – no need to hook-up. The 19-gallon water tank is easy to fill and will last you for days and the 100 watt solar panel will keep everything charged.
– LOTS of STORAGE: from clothing cubbies to garage shelves to hidden hideaways to indoor bike storage to a hanging closet. 
– DOGGIE DISH sliding drawer! Custom made slideout holds your pups food and water bowl.
ALL THE DETAILS: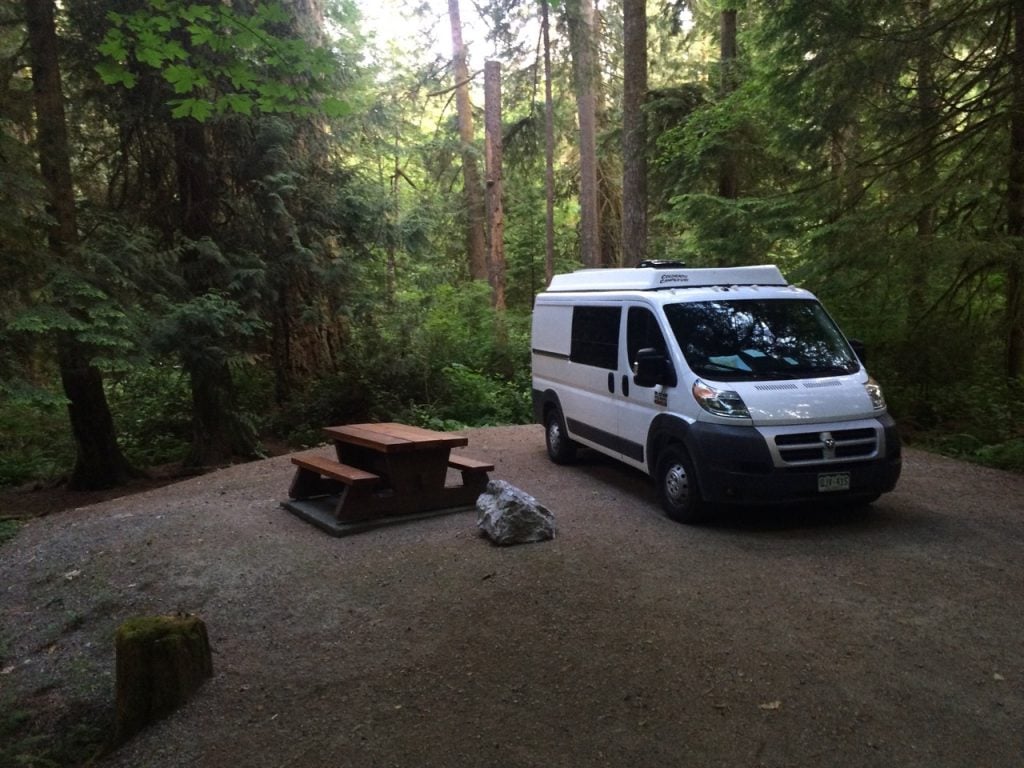 General
– 2014 Ram Promaster 1500
– 136" wheelbase with pop top and basic build from Colorado Camper Van, additional interior upgrades by TouRig
– Approx 76,000 miles 
– Gas V6, 280 HP with cruise, bluetooth, Appearance package, XM radio, Lumbar seats, Back glass (loaded for a cargo van)
– Backup camera (so helpful!) 
– Serius XM radio enabled
Pop Top
– Pop Top with triple wall insulation and quiet ride on the fiberglass (insulates and keep the top quiet)
– 6 windows that with 3 "layers": blackout insulated, clear vinyl and mesh
– Remote controlled raising and lowering – No hand cranking! 
– Full bed that measures 6'8 with removable/flip-able panels so you can stand in the cargo area while cooking/hanging out.
– 6 LED lights on dimmers
– Storage area at the front of the top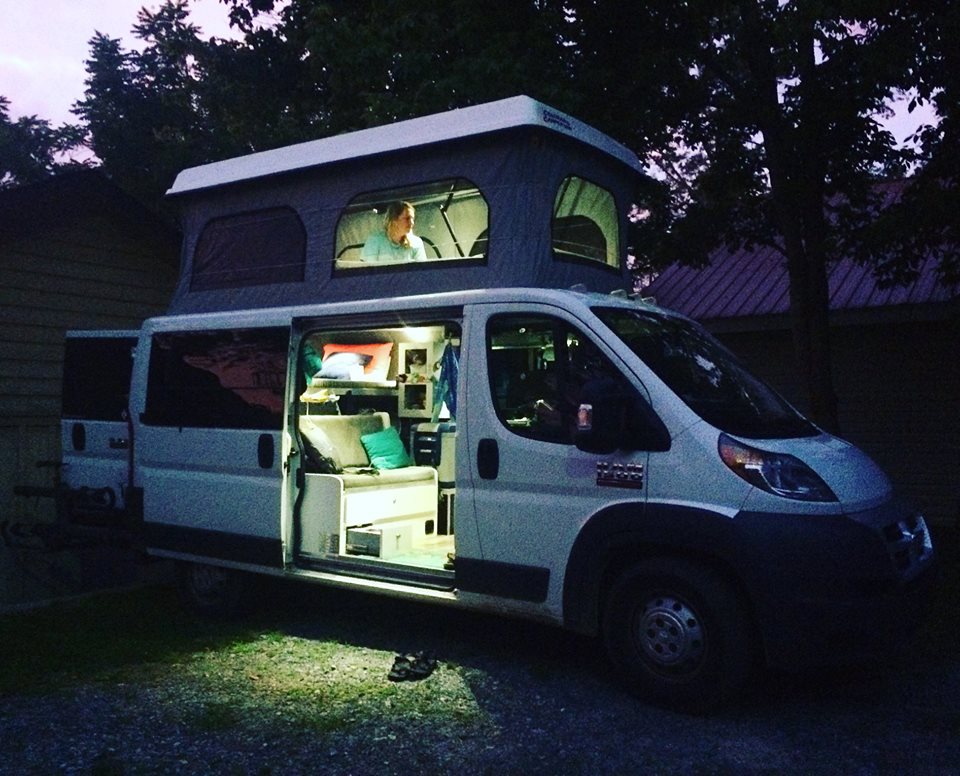 Kitchenette
– 30" wide
– 2 burner with flip up sink
– Custom flip up wood counter top to right of sink
– Storage underneath with soft close/lockable latches; custom sliding cabinet to fit all your dishes
– Sliding trash and recycle (**So nice to be able to tuck away the trash!)
– Water pump for sink with on/off switch
– Tempered top glass that folds down over the sink and stove to make the full kitchen area a counter space
– Extra food cubby on the wall for easy access when cooking
– Folding table for extra counter space, computer work surface, or outdoor dining. Easily tucks away into garage area for storage.
Fridge
– ARB 50L Electric Fridge
– Draws very low power
– Capable of cooling 90 degrees below ambient temperature
– Will work on slopes up to 30 degrees
– Removable
– Washable with drain plug
– AC/DC
Propane/Water
– Custom 19 gallon water tank with external fill
– Under-mounted propane tank for heater and stove / safely located on the exterior of van
Bench Seat
– Sits 2 comfortable (note: not seatbelted) 
– Build in large storage cubbies hidden behind the back of the bench PLUS large sliding drawer under bench + doggie bowl drawer
Battery/Solar
– Large deep cell battery under driver seat
– 100 watt solar on top of pop top, charges aux battery
– When the car is running there is a smart solenoid that charges the aux battery
– Hidden charging station in cubbies with DC and 2 USB ports
– Battery system runs lights, fan, fridge, pop top, inverter
– Downstairs Bed / 2 panels with two pads
– Flip one pad up onto the other pad to create a shelf to haul boxes or bags, thanks to the aluminum L angle added so nothing slides off the front
Propex Heater
– Propex HS2800
– Biggest Propex heater you can buy.
– Meant to heat up Pop Top van in the dead of winter.
– Thermostat controlled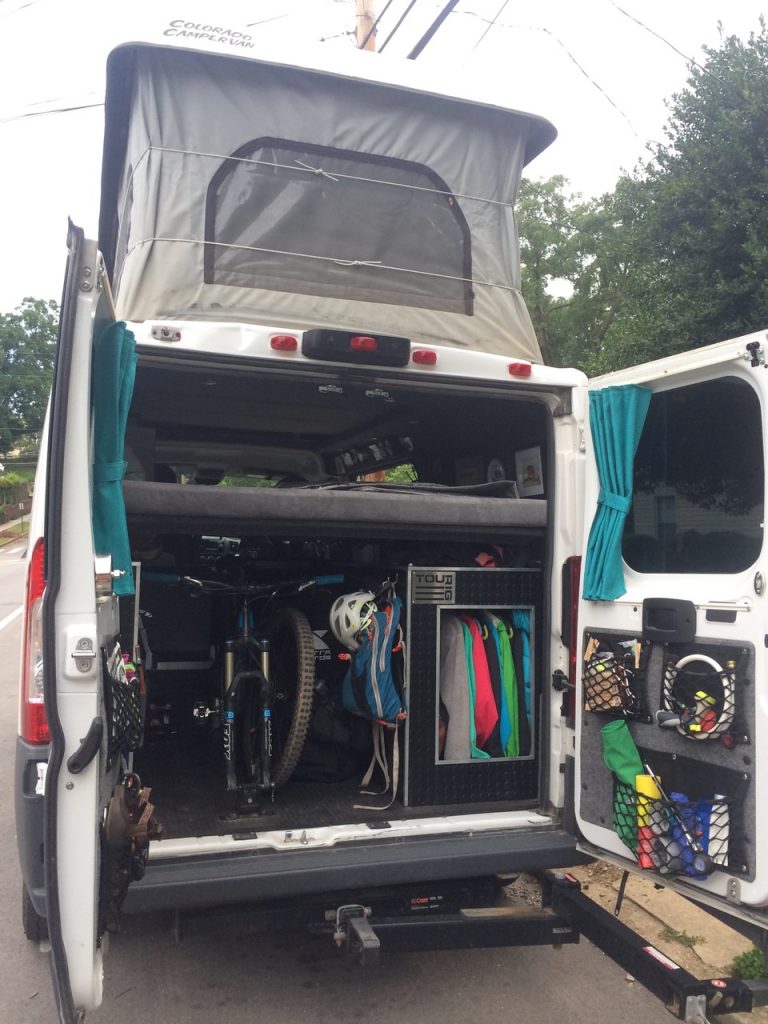 Cargo Area
– Tons of storage space!
– Cubbies along both walls for storing all of your gear
– Easily holds 2 bikes ( includes 2 floor mounts – one for mountain, one for road)
– Large hanging closet for all your clothes
– Build in hidden safe with keypad lock
– Laundry hanging line
The Extras
– All windows Tinted
– WeatherTech Floor mat for the front (this is a must!!!)
– Swivel Seat for passenger
– RakAttach swing arm for any gear rack that fits a hitch
– Kuat bike rack included in sale
– Laminate "hardwood" floors in main living area hold up to dirt; easy to clean
– Insulated walls with custom carpeted panels
– Lights – all on dimmers; LED Upstairs and downstairs switches
Tags: Vanlife, camper van, promaster, pro master, ram, sprinter van, poptop, camping, home on wheels, van for sale, low roof, high roof, vannah, hannahandvannah, vannahwhite