As beginner mountain bike riders we learn very quickly that the front brake is more powerful than the rear brake.  Many new riders refrain from even using their front brake due to that one time they grabbed it too hard and ended up flying over the bars.  And there is always that one friend that tells you to never use the front brake.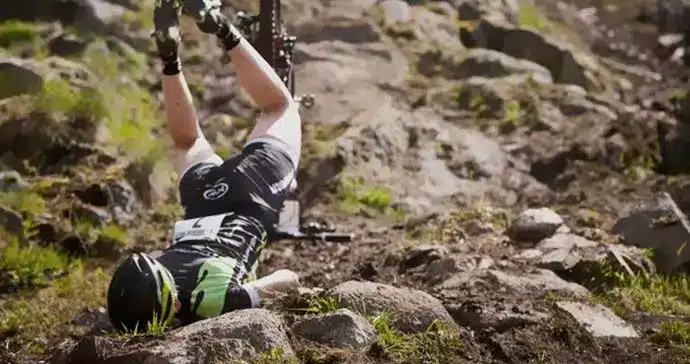 If you've been scared to use your front brake, I've got some good news for you… it turns out, your front brake is an important part of riding a mountain bike!  For me, learning why something is the way it is helps me implement the associated skill much more effectively.  So I wanted to share my understanding of front braking in hopes you too will learn more effective front braking.
What happens when you apply your brakes?
When you apply either the front (or back) brake the bike dips down in the front.  This is evident by watching your fork compress when braking.   Have you ever been riding down a hill and applied pressure to your rear brake and noticed the rear tire skidding behind you?  It slows you down but isn't great at bringing you to a complete stop.  However, if you apply only front brake pressure, this slows you down much, much faster.  This is also the point where you'll find out if you're not in a correct riding position.  If not, any sudden front braking has the potential to pitch you over the bars.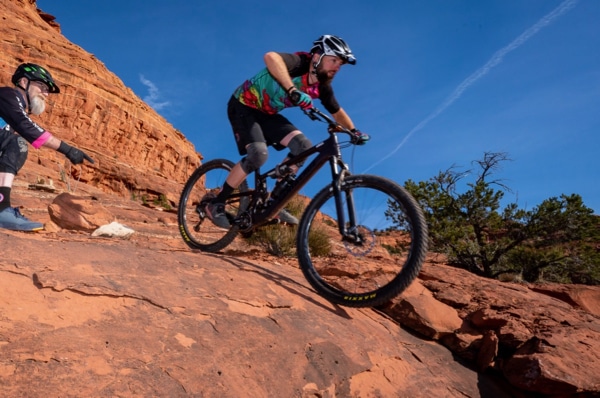 Why is the front brake more powerful?
It's simple; because the front of the bike dips down when you apply your brakes, there is more weight on the front of the bike and thus more traction on the front tire.  The front tire is less likely to skid.
This is also why most all-mountain, downhill and enduro bikes have a bigger rotor in the front.  The bigger rotor provides more leverage on the front wheel, for more stopping power.  The front brake will slow you down quicker and more safely when used properly.
Most mountain bikes, especially enduro or downhill bikes will have a bigger, heavier tire with more aggressive tread on the front. This provides more traction and in turn

more stopping power

.
Knowing the capability of your front brake will help you know when and how much pressure to apply.
How do you implement this in your riding?
If you want to stop quickly and effectively you want to use your back brake AND front brake. But the most important aspect to effective braking is body position.  This is what changes the front brake from your enemy to your best friend.  By applying your front brake and back brake at the same time while simultaneously shifting your weight low and back and dropping your heels to weight your pedals, you'll safely stop and avoiding sending yourself tumbling over your mountain bike.  Relax your arms, and keep your weight in your feet.
Let's break this braking thing down. Try this:
Grab your bike
Stand off to the side
With your hands on the bars apply pressure to only your back brake and push the bike forward. You should notice it dragging behind you but the bike would still move forward.
Then, apply pressure to only your front brake and push the bike forward. You should notice how the bike would not move forward and your bike wheel will lift.
Now, put one foot on your pedal and push your heels down to weight the pedal at the same time you apply pressure to your front brake. Ah ha! You should notice the back wheel stays down and your bike doesn't move.
Now go find a nice grassy area and practice using your front brake.  Pro tip: avoid your neighbor's freshly manicured lawn. I also recommend you check out our other Ninja articles on braking including 3 Keys to Using Your Front Brake Effectively and Secret Techniques to Effective Braking.
I hope you enjoy a new relationship of trust and appreciation with your front brake!
Article By: Erin Machan