Riders Can Take Their Skills To The Next Level With An Extra Layer Of Confidence

Mountain bikers looking to ride like a ninja will love the lightweight, bulk-free protection offered by G-Form — that's why Ninja Mountain Bike Skills is proud to partner with them to provide pads at a discount to interested clinic participants.
"In clinics, we're asked all the time, 'how do I tackle a challenging trail feature?'," said NMBS head coach, Richard La China. "Taking a clinic to learn the right form and skills is a great first step, but sometimes, the final ingredient for success is just a little boost in confidence, and that's what pads can do for a rider."
G-Form pads are machine washable, come in a variety of sizes and accent colors and don't compromise a rider's mobility. They are lightweight and low profile so they fit under (or over, if preferred) all riding shorts and jerseys. Made in the U.S.A., the G-Form design offers instant stiffening on impact that protects joints and bones when an athlete needs it, and unique hinging and molding that allows the pads to move freely when they don't.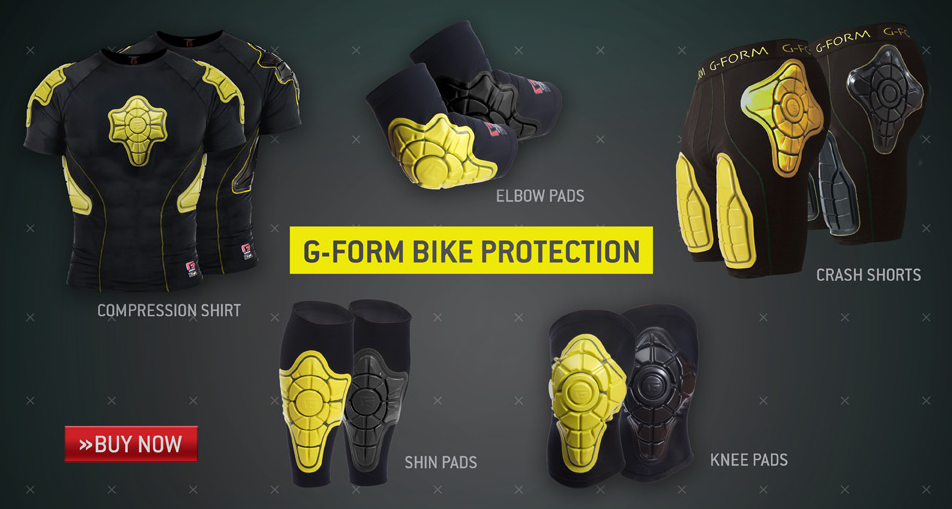 "It's easy to skip pads because they don't look cool or they're not comfortable to wear," said NMBS's Assistant Coach, Kris Gross. "But I think jumping my bike looks and feels pretty cool and without pads, I didn't have the confidence to try. Every rider, no matter what level, will face a challenge that gives them pause. Pads like G-Form can help them take it to the next level."
Find out more about G-Form pads or shop online at g-form.com. The pads are also available on the Ninja Mountain Bike Skills website. Clinic participants are invited to try the pads for free at their skills sessions, and they will receive a special discount code to use towards purchase if they choose.   Shoot us a quick message if you have any questions, and to get your discount code.