Bunny-hop into Springtime with Ninja Mountain Bike Skills!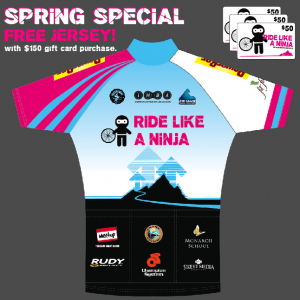 Spring is our favorite season here at NMBS, and it makes us so happy that we want to spread our springtime cheer to you with our 'Hop Hop Hooray It's Spring!' Special.
After all, what's not to love? We've got longer, lighter, and warmer days. There are blooming flowers all around us on the trails.  April showers make the trails nice and tacky so we can experience a little hero dirt.  Race season is in full swing.
And lest we forget, there's also college basketball playoffs, the start of baseball season, Easter, Passover, Spring Break……. and now…wait for it….wait for it….the NMBS Hop Hop Hooray It's Spring Special: for every $150 gift card purchase, you get a Ninja Mountain Bike Skills jersey!
That's right. We are giving you a free jersey with your $150 gift card purchase!
Are we crazy? Maybe. But we're just so darn happy!
So buy some gift cards and join us at one of our clinics or camps to bunny-hop, flat-hop, or just plain-old jump into Springtime with us! (And look good doing it in your free stylish jersey!)    Click here to buy today*… https://squareup.com/market/team-ninja-2/spring-special-free-jersey-with-gift-card-purchase
*available while supplies last.