Pocket-Size Repair Kits For Bike And Body Come With Special Ninja Discount
Ninja Mountain Bike Skills (NMBS) is thrilled to announce it has partnered with Hero Kit, the repair kit revolution that helps bail riders out of sticky situations.
"There are few certain things in life, but if you're a mountain biker, flat tires or other trail mishaps are definitely in that category — it happens to everyone," said NMBS head coach, Richard La China. "But that's no reason to end a ride. Part of riding like a ninja is being prepared. That's why we love the Hero Kit — everything you need in an easy-to-pack pouch."
Hero Kits come in three flavors: Road Bike Field Repair Kit, Mountain Bike Field Repair Kit and Crash Pack first aid supplies. Each kit comes equipped with tools and materials, plus easy-to-follow instructions on how to use the contents so riders can keep rolling, even if they can't YouTube a how-to. Contents include essentials such as multi-tool, zip ties, tire levers, cleat bolts, and duct tape, and more.  All items are packed flat in a waterproof plastic bag that fits comfortably against your back in a jersey pocket, or in your hydration pack.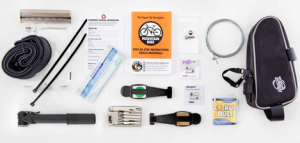 "If you've ever been on a ride where you or a friend got hung up on a show-stopper mishap, you'll know the amazing feeling of relief the right tool or replacement part can bring," said NMBS's Assistant Coach, Kris Gross. "Nobody wants to cut a ride short, but if you're carrying a Hero Kit, chances are you'll have what you need right in your pack or pocket."
Hero Kits are available online at herokit.com and all Ninja Mountain Bike Skills participants receive a 10% discount to use towards purchase if they choose (use code NINJA).