If you're in the Phoenix area on October 12-13, come out and learn to Ride Like a Ninja. San Diego Mountain Bike Skills is offering special Arizona Edition basics classes, a women's-only clinic and a full-day intermediate/advanced workshop for our friends in the state next door.
Mountain biking is about getting outdoors, sharing some adventure and it's about community. In a community, our neighbors make it fun. So we're hitting the road and paying a visit to our friends and neighbors in Arizona.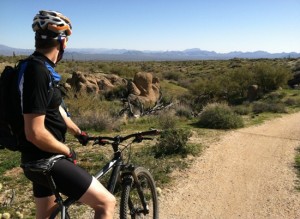 Our "Ride Like a Ninja" clinics have enjoyed hosting AZ riders in San Diego. When they shared their stories about their favorite McDowell Mountain trails, we knew we just had to go. We can't wait to get started there with riders looking to get that ninja edge. We're looking forward to practicing our skills in new, fantastic terrain, we're grateful for the hospitality of Bicycle Ranch bike shop and we can't wait to make some new friends who love to ride.
Look forward to seeing you out there.