ANNOUNCEMENT  Ninja Mountain Bike Race Team
You already train together. You suffer up Z-climb repeats together. You do standing Pershings together. You all face "The Wall" together. You already cheer each other on at the monthly TT/Fitness Tests…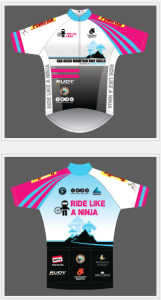 And now, we're making it so you can race together…
Yes, that's right! You asked for it and we are making it happen: San Diego Mountain Bike Skills is creating the "Ride Like a Ninja" MTB Team for the 2014 season.
What does it mean to be on the Ride Like a Ninja MTB team?
– Spirit of mountain biking; being fitter, faster, stronger; helping the MTB community and ensuring the future of the sport with volunteering
– Coached workouts
– Race support
– Sponsorship and sponsor discounts
– Discounts on skills essions
– Race Kits
– MTB Camps
– Discounts on Coaching
Haven't participated in the Tuesday Night Workouts and don't know what the Z-climb is? That's ok! The Ride Like a Ninja MTB team is open to everyone, regardless of skill level (and familiarity with said Z-climb). The only requirement is a shared commitment to the mission of the team.
More information about joining the Ride Like a Ninja Team will be coming soon.  In the meantime, if you have any questions or would like to be a sponsor of the team, please reply to this email or contact us HERE.