For those ninjas-in-training that want test their skills in a race environment–and have a blast doing it–I recommend participating in the Quick n' Dirty Race Series. The course is fast, fun, beginner friendly, and spectator friendly due to its multiple loops.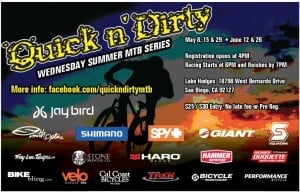 To ride like a ninja you must have great skill; to race like a ninja you must have great insight. No, this does not mean that you have to read the Tao of Pooh, it just means that you must be aware of the course ahead of you. The best way to do this is with a purposeful pre-ride–learn where the best line is, practice the technical sections, know how much recovery you will have between climbs, and scope out the best passing sections.
To ensure that you have the best race experience, dominate your category, and race like a ninja, come and join a Ninja-led small group pre-ride / Efficiency and Flow clinic (all-in-one!) at the Quick n' Dirty course (Lake Hodges) on Saturday, June 22nd at 8:45am.
For $109, your session will include the mountain bike skills session, pre-race nutrition guidance, race strategy breakdown, 'what to expect on race day' tips, and, of course, the actual pre-ride. This is a full-day session.
Click Here to Register
The skills taught and practiced on the Mountain Bike Skills :: Efficiency and Flow course include:
Mind skills
Reading the trail & linking sections for flow
Attacking flat corners
Flat and cambered corners
Bermed corners; lines and pumping
Switchbacks
Maximizing grip and traction with pumping
Learning to pump for speed & air
Event schedule and times
Although the course is flexible it will usually keep to the following program:
08:45-09:00 Arrival at course venue
09:00-01:00 | Skills coaching session – Pumping & flow, line selection, more.
01:00-02:00 | Lunch
02:00-04:15 | Skills coaching session – Mastering cornering, switch-backs, more.
NOTE: THIS DOES NOT INCLUDE RACE ENTRY / THIS IS ONLY FOR THE SKILLS CLINIC AND COURSE PREVIEW.