Virginia lives in Park City, Utah (aka MTB heaven), races endurance seriously and enduro sillily, loves all kinds of riding (even pavement, please don't judge, you must know or be a slowly reforming roadie), and gets the most stoke out of helping students feel more confident and have more fun on their bikes!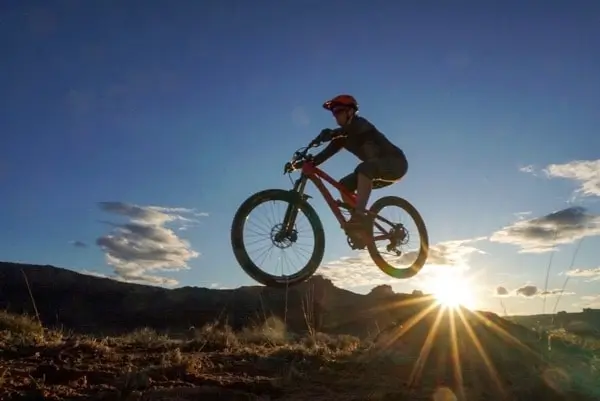 Home Base
Park City, UT
Other Gig
Art history professor
Instructor Certification
PMBIA
Favorite Type of Terrain
Flowy singletrack with epic views
Favorite Post-Ride Snack
SLURPEES
Riding Tip
Look ahead. Any time I'm having a bad ride, I check in to make sure I'm looking ahead and 98% of the time that fixes it. The other 2% my brakes are rubbing. Totally my bike's fault.
Favorite Riding Partner
My older dog Georgia used to be my bestest trail buddy, but she's getting old and can't get out, so now I'm waiting for the new guy, Sebastian (aka Sebby, aka Sebadoo, aka Sir Sebs A Lot), to be old enough to start learning.
If you could live anywhere in the world, where would you live?
Oh man, I love where I live currently… My life as an art historian has taken me all over the place (Nor and SoCal, NYC, Philly, Eastern Canada, Memphis), in addition to having grown up in DC, and the Salt Lake area packs a pretty great punch of culture and nature without costing a bajillion dollars. But maybe Asheville? Bikes + Food + Beer
Follow Virginia on Instagram @vsolomon36.
Looking to ride with Virginia? You can find them instructing at clinics in Utah and Idaho.