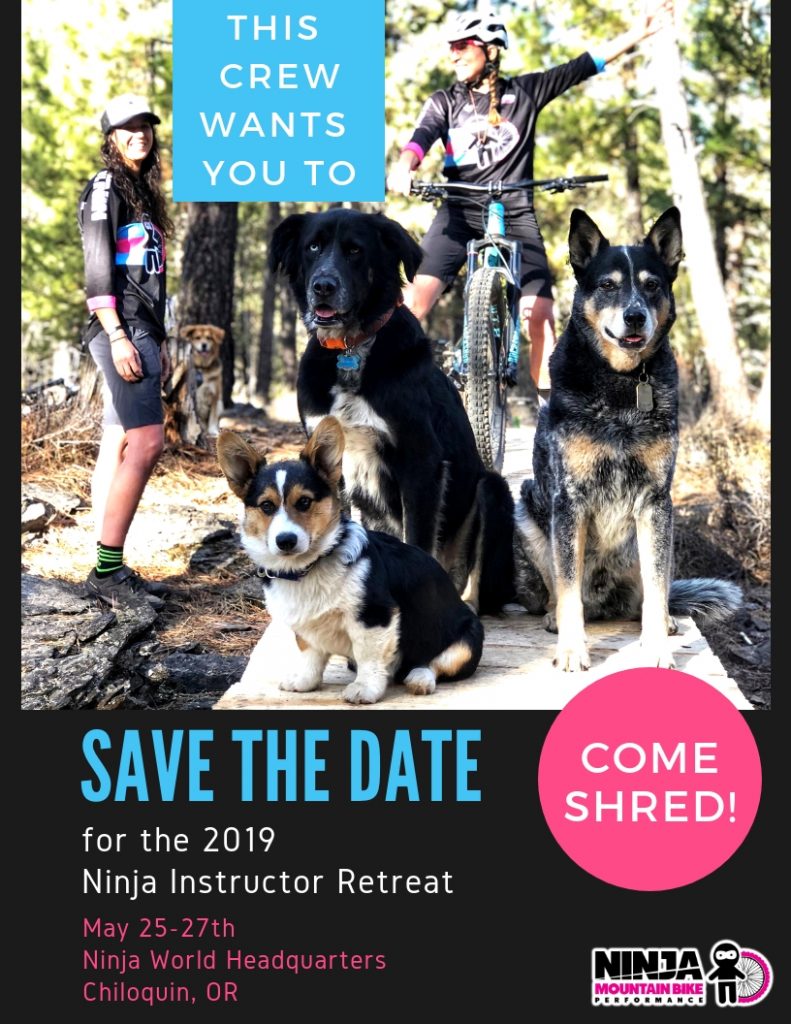 One epic weekend. All the bikes. All the skills.
All the Ninjas.
Here is what you can look forward to:
WHO | Ninja Instructors from across the country
WHEN | Memorial Day Weekend 2019 (May 25, 26 & 27)
WHERE | Ninja World Headquarter, Chiloquin, OR (closest airport – Medford)
WHAT | Instructor training and development on private Ninja trail network, group rides on area singletrack, product training, campfires, kayaking, food and all things FUN
…AND | (pending interest level)

PMBI, BICP and/or Ninja Specific Instructor certification opportunities (May 22,23,24)
Stick around after the official retreat to ride the trails of Southern Oregon! (May 28,29,30)

WHY should you attend?

Learn from some of the best mountain bike instructors in the country
Teach with more confidence
Improve your own riding
Meet other Ninja instructors
Share your teaching experiences in a collaborative environment
Learn NEW teaching content!
Review fundamentals, intermediate and advanced progressions
You need a bike vacation (always)
EAT, LAUGH, RIDE BIKES IN OREGON

COSTS COVERED by Ninja include:

Ground transportation (to/from Medford airport or Klamath Falls train station, transportation to weekend activities)
Free camping
Fun activities (i.e. kayak, riding, campfires)
– – – – – – – – – –
To help us plan the best possible weekend, we'd love get an idea of how many folks might be able to attend and who might be interested in completing a PMBI, BICP or Ninja Specific certification.
This form is only intended to gauge initial interest – you do not have to commit to anything at this time.
—Please let us know your thoughts!—