Russell lives in the Tri-Canyon area of San Diego. He loves to ride out his front door on the local trails littered with baby head sized rocks, rutted out DH tracks, and fast and flowy singletrack. He enjoys all the riding areas that the greater San Diego has to offer. Skypark Bike Park and Greer Ranch are also at the top of his list.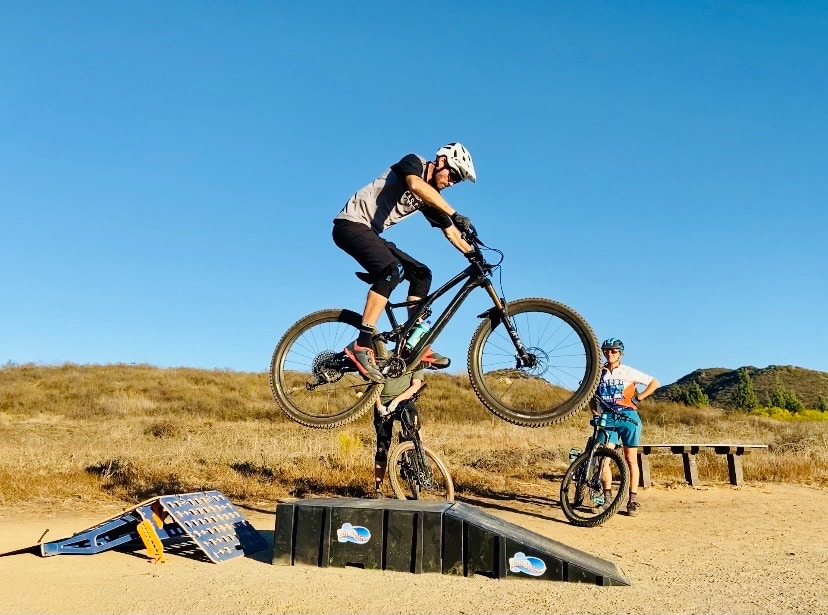 Home Base
San Diego, CA
Other Gig
Environmental Planner
Instructor Certifications
BICP Level 1
Favorite Type of Terrain or Feature
Steep and loose to smooth singletrack and lots of jumps
Favorite Trail Snack
Dark Chocolate covered almonds
Favorite Post Ride Food or Drink
Pizza and a Coke
Favorite Riding Tip
Look, Low, Lean.
Favorite Riding Partner
My daughter, Bera. Even at her young age, she is making big strides and on her way to doing anything she wants to do on a bike. It's inspiring to watch her learn, get scared, and push through a good challenge.
How did you get into Mountain Biking?
I started riding mountains on a BMX bike before I was a teenager. My brother first graduated BMX with a GT Talera in the late 90s. Needless to say, I borrowed that bike every chance I could and starting getting further out on trails around our house in Northern California.
If you could live anywhere in the world, where would you live and why?
Right here in San Diego, or somewhere in the desert where you can ride all year long.
Looking to ride with Russell? Join him in one of our California clinic locations or check him out on IG @realsimpo