Are you looking for an incredible singletrack vacation?
How about breaking away from your local blown-out trails to ride on some of the best, most lush trails in the Southern Appalachians? We created this camp to showcase the epic trails that surround Mulberry Gap in Ellijay, Georgia.  In addition to our traditional skills instruction, each day will give you a great taste of what riding in the Blue Ridge area is all about… beautiful scenery, challenging climbs and huge, tree-lined descents that flow for miles. There is really nothing else like this trail system and it should be on everyone's mountain bike bucket list.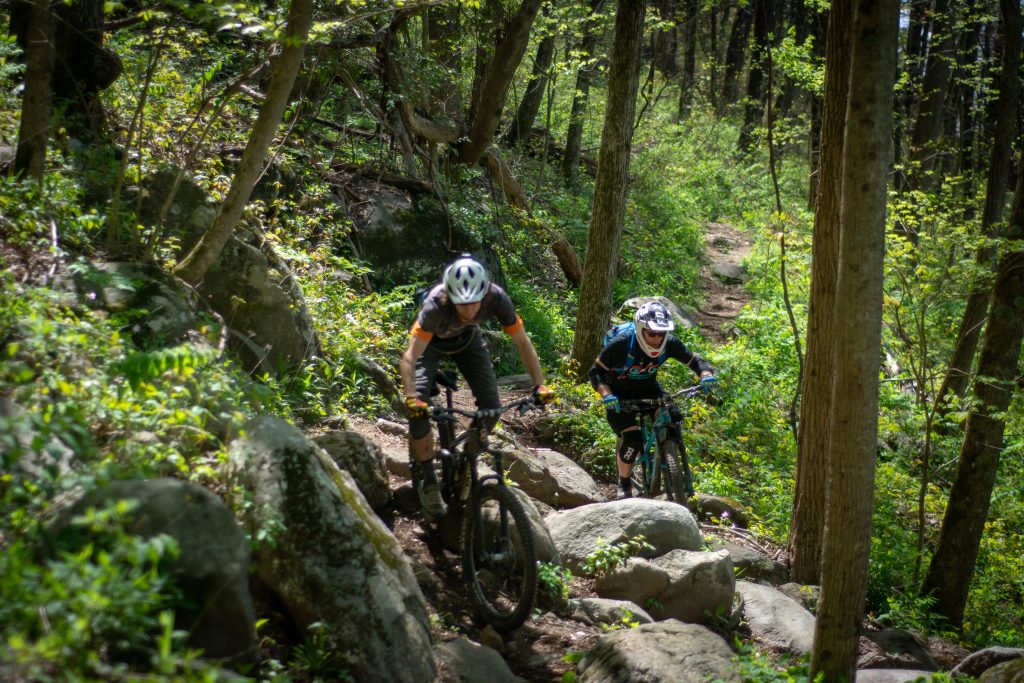 But don't just take our word for it!

Mountain Bike Action Magazine has this to say about the trails in Ellijay: "Spectacular! The place is loaded with fun and flow single track with mostly reasonable climbs and fast descents. Trails are beginner friendly but far from boring for expert riders. Extensive tree coverage provides shade and deflection of the rain. These are the greenest, lushest forests we have ever had the pleasure to ride in (beating out Oregon's King-Castle Trail for the honor). In the cooler months of fall, the trees shed their leaves to let the sun warm the trails."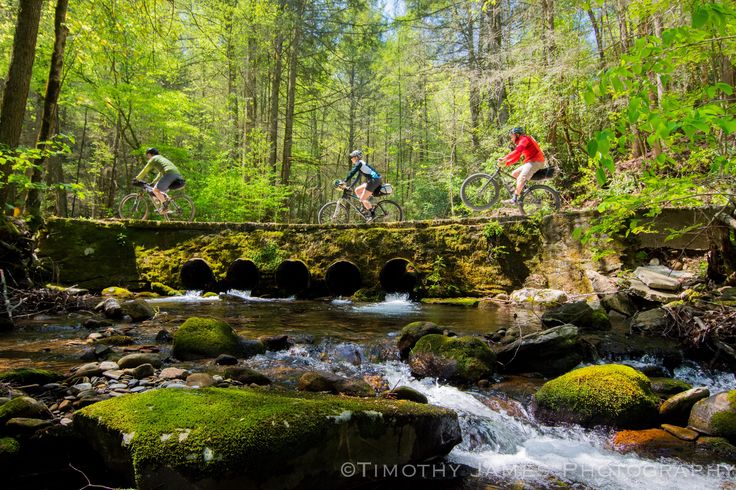 And Pinkbike says, "This place is stunning….From the front steps of your cabin, you have immediate access to upwards of 80 miles of grassy, leaf covered singletrack, 25 miles of which is the famed Pinhoti Trail."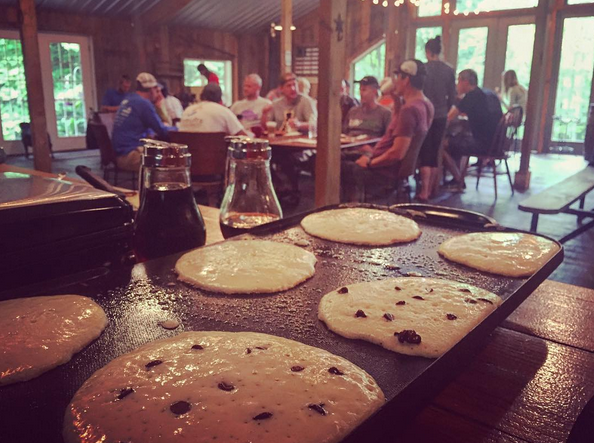 The trails aren't the only drool-worthy reason to come.
The cabins at Mulberry Gap Mountain Bike Get-A-Way are also out of this world.  This unique, family-owned and operated mountain bike base camp is set on a beautiful terraced plot of land in the Appalachian forest, surrounded by old-growth trees. According to Dirt Rag Magazine, the proprietors "get" mountain bikers and "cater to bikers' needs with features such as never-ending plates of home cooked meals, hot showers, hot tubs, bike wash, rec room, laundry room, wi-fi and a camp store with bike goods and a nice craft beer selection." It's all about pre-ride breakfast, top-notch singletrack, and  post-ride experience. Um… did you hear the part about the hot tubs?!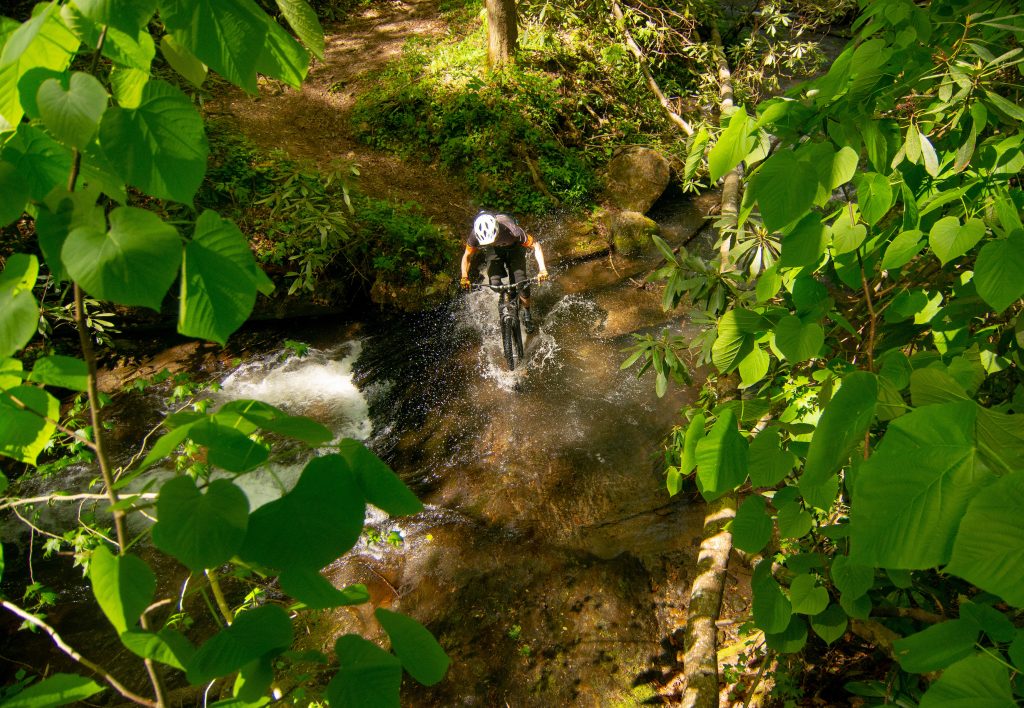 General Camp Schedule and Details:
*camp schedule may vary slightly – you'll always leave with plenty of miles, new friends and lots of Ninja skills! 
**separate reservations are required for meals and accommodations through Mulberry Gap

(Day 1) Friday:
— 8:30am — Breakfast @ Mulberry Gap**
— 9:45am — Meet at The Barn
— 10:00am-12:00pm —  Welcome, Bike Safety Check, Foundational Skills // bike set-up , ready position, effective braking, riding mindset, fluid shifting, and more!
— 12:00-1:00pm — Lunch Break @ Mulberry Gap**
— 1:00pm-3:30pm — Afternoon Skills Session // high speed cornering, climbing, wheel lifts, and how to get out of trouble
— 3:30 — Free time! Official on-bike camp training is done for the day – use your free time however you'd like: ride, shower, hot tub, explore!
— 6:00pm — Dinner @ Mulberry Gap**
(Day 2) Saturday
— 8:30am — Breakfast @ Mulberry Gap**
— 9:45am – Meet at The Barn
— 10:00am – 12:00pm — Morning Skills Session // Review of Day 1 skills followed by new skills progressions such as switchbacks, drops, bunny hops, rock dodge, technical climbs and descents.
— 12:00-12:30pm — Grab your lunch** and grab your pack – it's time to hit the trails!
— 12:30pm – 4:00pm —  Shuttle to the top of Bear Creek Trail // Ride Bear Creek, Pinhoti 1 and Pinhoti 2 (w/trailside lunch break)
— 4:00 — Free time!
— 6:00pm — Dinner @ Mulberry**
(Day 3) Sunday
— 8:30am — Breakfast @ Mulberry Gap**
— 9:45am —Meet at The Barn
— 1o:00am – 12:00pm — Morning skills session // Review of Day 2 followed by new skills such as track stands, ratcheting, dynamic weight shift, intro to jumping, and pumping.
— 12:00-1:00pm — Lunch Break @ Mulberry Gap**
— 1:00pm – 3:00pm — Afternoon Trail Ride / Pinhoti 3 / Putting it all together with emphasis on efficiency and flow!
— 3:00pm-3:30pm — Review of weekend skills, Q&A session, group photo
— 3:30pm — Official on-bike camp training is done. At this time, you are free to pack up and head back home to the real world….or hang around and get in some extra credit riding!
What's included:
3 Full days of riding and skills instruction with the best certified instructors in the country
Not Included:
Accommodations***
Airfare
Transportation to and from Airport
Breakfast, Lunch and Dinner***
Bike Transportation (note: bikes can be shipped directly to Mulberry Gap)
Bike Assembly and Packing available through Mulberry Gap
If you prefer to rent a bike, we recommend reaching out to our friends at Cartecay Bike Shop in Ellijay, GA @ 706.698.2865
***We highly recommend you book your stay with Mulberry Gap as this will serve as our home-base for the camp.  Space fills up quickly – do not wait until the last minute! We also strongly encourage you to make meal reservations too!  The home cooked meals at Mulberry Gap will not disappoint.  There are other hotels in the area – check out Ellijay and Chatsworth (both are about 3o mins away).
Other camps to consider: