Misty grew up doing everything outdoors from riding horses to dirt bikes to riding bicycles with her neighborhood crew. Who knew there would be super amazing MTB trails in Florida! After falling in love with the sport she wanted to share it with EVERYONE!
Misty started an all ladies MTB club to get more ladies riding their bikes. Now she loves teaching others MTB skills to help build confidence on the trails. Misty has her Level 1 PMBIA certification she want to share her passion with everyone and having fun while doing it.
When not empowering people to get out ride bikes Misty is a sports & medical massage therapist and has two teenage boys that keep her on her toes.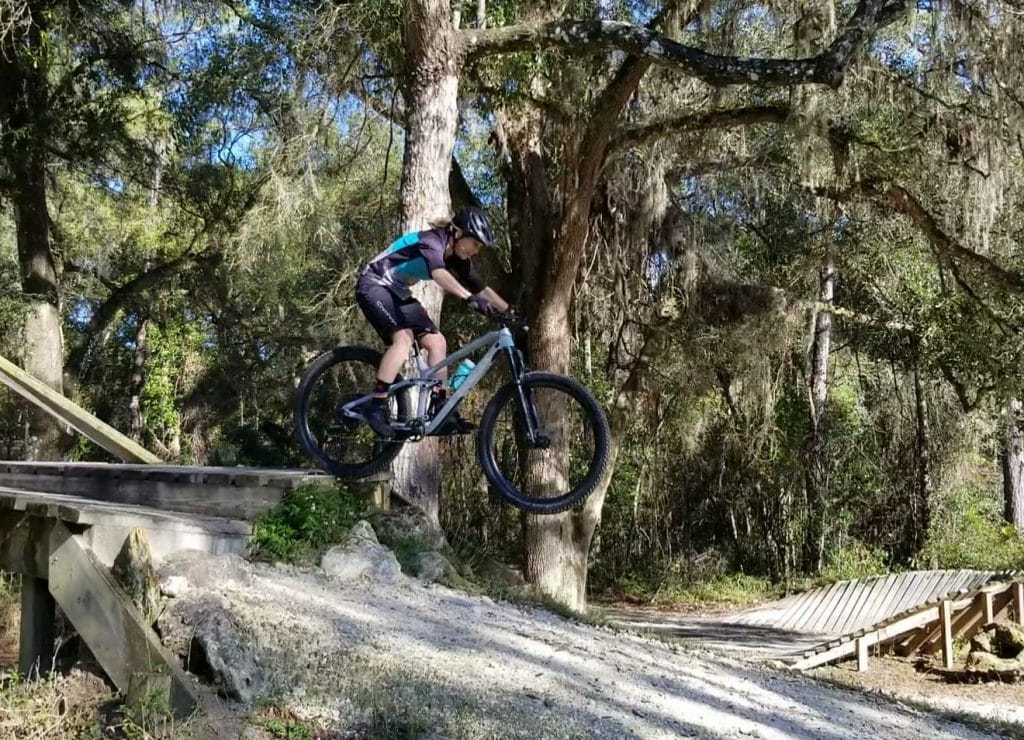 Home Base
Mt Dora, Florida

Other Gig
Sports & Medical Massage Therapist

Instructor Certifications
PMBIA Level 1

Favorite Feature
Anything downhill and drops

Post-ride Food
FRIED PICKLES…… mmmmmmmm

Riding Tip
Body position- ready position …..this was a game changer for me & a confidence booster!

Riding Partners
My boys! My teenagers Hunter & Hayden are so pumped when I do new feature that I was struggling with! And my boyfriend Patrick…..I wouldn't be on MTBs or coaching if it wasn't for him. He pushes me every ride to be a better rider…..sometimes he says it the wrong way LOL but we move on and I end up doing something EPIC at the end of the ride!

How did you get into mountain biking?
I got out of training horses professionally and was looking for a new hobby. They built a new trail right down from our house so we stated riding. Started on a entry level bike that was so freaking heavy but I was determined to ride bikes with our boys. That when my boyfriend brought home a steel frame 26″ Jamis Dragon……that was when it was game on!! That bike was so light and I flew around that trail!! I really felt like a badass, that is really when I notice all that hard rides paid off…. I was hooked!

If you could live anywhere in the world, where would you live?
Anywhere there are mountains I'm game… but I'd love to live in North West Arkansas!!

Looking to ride with Misty? You can usually find her instructing at one of our many clinics in Florida, Georgia, and Arkansas.