Mimi lives in the Midwest on the shores of Lake Michigan and is a self-described endorphin junkie. When not running around after her kids or dog, can usually be found in the forest, running or riding the trails (or both). Off-road triathlon and mountain biking are her passions and even after 10 years of being competitive in the world of XTERRA, still loves to the toe the line to see if she's still got it. Mountain biking continually pushes her to limits she never thought she could reach. She loves the physical and mental challenges it presents and hopes to instill this love in everyone she meets and coaches.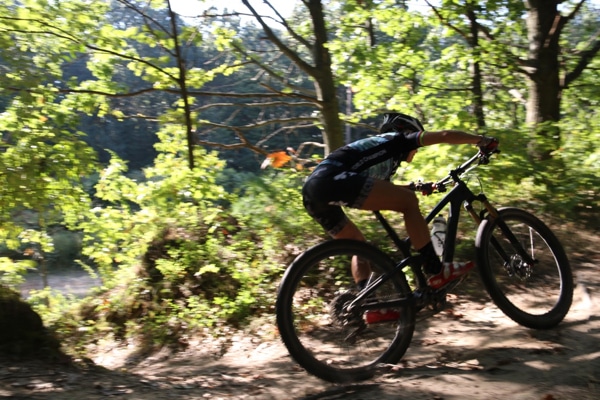 Home Base
Stevensville, Michigan
Other Gigs
Aside from being a renaissance woman… mom, owner of Next Level Endurance, current MBA student
Instructor Certifications
BICP Level 1
Favorite Type of Terrain
Super flowy singletrack that goes on for miles and miles… jumps and berms are an added bonus!
Favorite Trail Snack
Chocolate chip banana bread
Riding Tip
Nothing beats practice for getting over fears. You will fall, and sometimes crash, but it's all part of becoming a better, more confident rider.
Favorite Riding Partner
Me, myself and I. I usually ride alone–it's my time to decompress, to be one with nature, to ride wherever I want.
If you could live anywhere in the world, where would you live?
Somewhere warm, with constant sunshine, amazing trails, near water, with great culture and restaurants and a cool vibe. When I find that place, I'll move there!
Follow Mimi on Instagram @mstockton.
Looking to ride with Mimi? You can find her instructing at one of our many clinics in Illinois, Michigan, and Indiana.