Originally from Chicago (where there are no mountains) this Honey Badger moved west in search of endless outdoor fun. At first she raced off-road triathlon, then raced XC to get better on the bike for triathlon, decided one sport was more simple that three… and realized she hated climbing but liked descending. After six years of spandex she found her way to racing downhill mtb, and in 18 months won a National Championship in 2014 and got her pro upgrade. She also got certified to coach at the same time and loves the balance of ripping down the mountain at mach chicken as well as helping other riders learn to have more fun on their bikes. She's constantly in a vacation time deficit to travel the country racing bikes and coaching.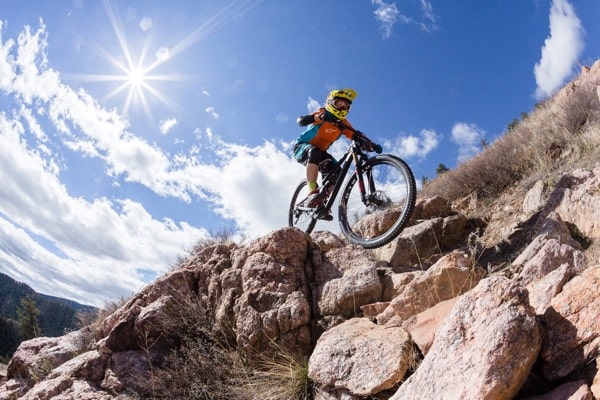 Home Base
Louisville, CO
Other Gig
Senior Graphic Designer at Backcountry Access
Instructor Certifications
Terra Method Level 1 and Trestle Bike Park's own coaching certification.
Favorite Type of Feature
A lift/shuttle up to a descent that's fast with options to jump, huck or manual.
Favorite Trail Snack
Waffles
Riding Tip
When in doubt, focus on looking farther ahead.
Favorite Riding Partner
My fiance Kristine, we have opposite strengths and she always finds the fun lines. Then we challenge each other to see who can huck a feature the farthest. We are always striving to half-wheel each other!
If you could live anywhere in the world, where would you live?
It would be a magical land that's warm and never snows, shuttle roads for downhill trails that always have right of way… and isn't too windy.
Follow Kim on Instagram @kgodfrey52 .
Looking to ride with Kim? You can usually find her instructing at many of our clinics in Colorado.