San Diego Mountain Bike Skills Coach Richard La China is now teaming up with Tri Club San Diego to encourage more triathletes to get off the pavement and into the dirt.  All TCSD members are invited to join our free Tuesday evening mountain bike workouts.
Workouts vary from endurance, aerobic to anaerobic including efforts to increase your lactate threshold, Vo2Max and over all just make you FITTER, FASTER and STRONGER!
The workouts start with a talk about specific riding skills, fueling properly / nutrition and/or race tactics.  These sessions are designed to be educational, fun and challenging.
These workouts are appropriate for riders of all levels, from true beginners to experienced racers.   While there are no monster climbs on our workout course, have no worries.. these workouts are as challenging as you'd like them to be.
Coach Richard will split the workout participants up into two groups. The beginner or Level 1 group, and the advanced or level 2 group.  The level 1 group will have a challenging but less intense version of the level 2 group workouts.  If the level 2 group workout is too intense, you can drop down to the level 1 effort.
The workouts are free and meet up time is 5:45pm with the workout starting at 6:00pm Tuesday evenings, ending at 7:30.  Please be ready to ride with your helmet, gloves, something to drink and your mountain bike.
Meetup at the entrance of the San Diego Velodrome.  We'll be easy to spot, as our mountain bikes should standout quite a bit from all the track bikes.
San Diego Velodrome
2972-3268 Florida Drive
San Diego, CA 92104
RSVP here if you'd like to attend an upcoming MTB workout:
http://www.meetup.com/Mountain-Bike-Workout/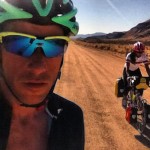 ABOUT RICHARD LA CHINA
Richard is a USAC Certified Cycling Coach and International Mountain Bike Association (IMBA) Certified Level II Skill Instructor.
Richard works with all levels of riders from beginner to professional XC racers, Xterra athletes, and non-competitive recreational riders seeking to become their best.  He is great coach for mountain bikers looking to improve their skills and fitness, and his experience with bicycle touring also makes him a great coach for someone preparing for long haul ultra endurance events.   Richard has been racing mountain bikes on-and-off for the last 24 years.
Richard's experience on the mountain bike, his race results, as well as his dedication and understanding of training principles and riding skills,  show that he knows what it takes to help you achieve your cycling goals.
Updated schedule of upcoming Mountain Bike Skills Clinics: